Spinach, broccoli, carrots, tomatoes, beets and shiitake mushrooms for breakfast? This idea might sound strange at first, but wait until you try Made Good Chocolate Banana Granola Minis! These naturally sweet granola bites may taste like chocolate and banana, but they're made with vegetable powder for added nutrition – and everyone could use more veggies in their diet! Each 90-calorie pack contains one full serving of vegetables plus gluten-free whole grains and delicious dark chocolate, so you can feel good about what's inside. Best of all, this granola comes in convenient bite-sized pieces for hassle-free snacking on the go.
From the Mouth of a Kid:
I love the taste of chocolate and bananas!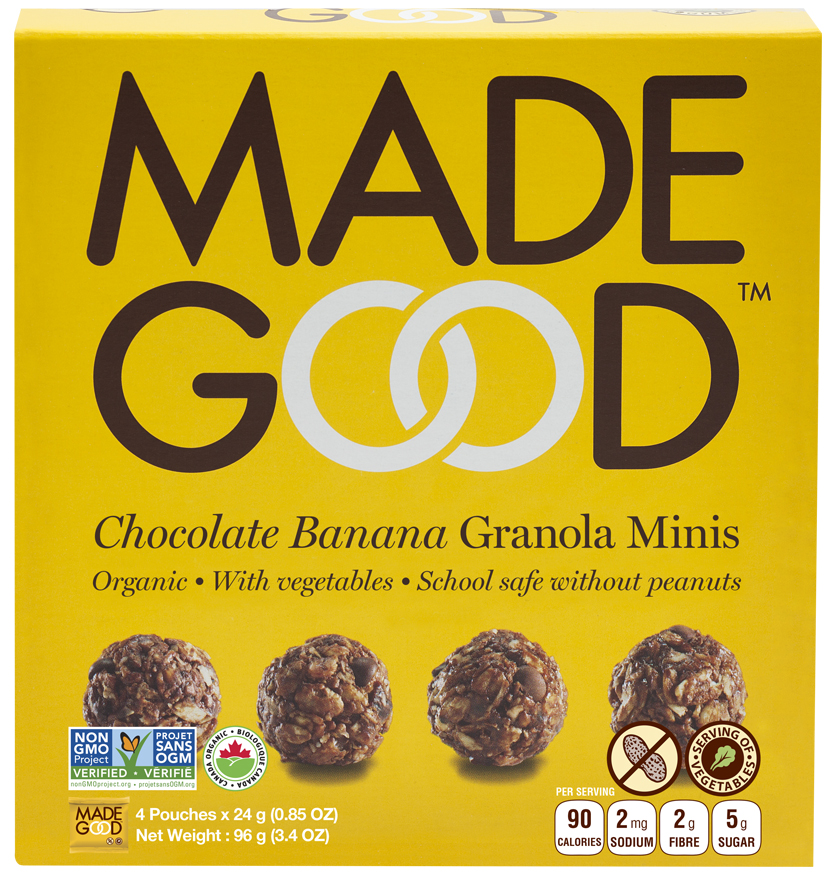 From the Eyes of a Parent:

Made Good Granola Minis are the perfect way to get my whole family to eat more veggies and whole grains. These convenient bites have all the nutrition of traditional granola with none of the mess, so we can eat them anywhere, even in the car! Plus, they're peanut-free so I can pack them in my kid's lunch box knowing they're safe for schools.
Flavorful Features:
Made Good Granola Minis also come in:
• Apple Cinnamon
• Strawberry
• Chocolate Chip
• Mixed Berry
The Icing on the Cake:
Made Good Chocolate Banana Granola Minis are gluten-free, peanut-free, certified organic, and made with non-GMO ingredients. One serving provides 20% of children's daily-recommended intake of vitamins A, B6, C, D, and E, and 25% of children's daily-recommended intake of thiamine.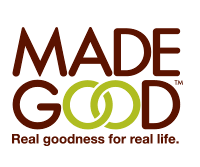 Time to Eat?!
Perfect for breakfast and snacking anytime, anywhere!
Good to Go?
Absolutely! Made Good Granola Minis come in convenient pouches perfect to toss in a backpacks, purse, or lunch bag.
Mix it Up!
Mix them with yogurt, trail mix, or your favorite cut-up fruit to add both flavor and nutrients to your breakfast or afternoon snack.

The Creative Kitchen™, LLC, teaches children about food and how to cook in a fun, safe, and educational manner. Targeting families with children ages two to teen, the company focuses on teaching, writing creative content and curriculum, special events, recipe development, spokesperson work, webisode production and consulting to present educational and entertaining content through food-related activities. The founder, Cricket Azima, is an expert in cooking for and with children. She inspires kids to express themselves creatively through food and cooking, while complementing lessons with traditional educational material such as social studies, math, arts, science, and more. Visit

www.thecreativekitchen.com

for more information.
Related posts