Free of coloring, preservatives, and hydrogenated fats, Loacker Quadratini wafers come in a variety of flavors, so the tongue and tummy will never be bored. These crunchy, crispy, sweet wafers are the perfect end to any meal, or to eat as a snack to cure a sweet tooth craving in the middle of the day.
From the Mouth of a Kid:
They are the perfect size for my mouth!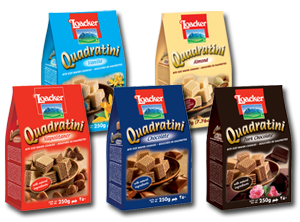 From the Eyes of a Parent:
It is great to find a wafer that is free of preservatives and hydrogenated fats, and with the bite-sized pieces, it's easier to manage portions for my kid…and me!
Flavorful Features:
Here are Loacker's various flavors:
Napolitaner

Chocolate

Dark Chocolate

Lemon

Coconut

Blackcurrant

Tiramisù

Cappuccino

Espresso

Raspberry-Yoghurt

Cocoa & Milk
The Icing on the Cake:
Loacker's quadratini wafers are free of coloring, preservatives, and hydrogenated fats. These delicate, cream filled wafers are great to enjoy at the end of a tremendous meal.
Time to Eat?!
With the small bite-sized pieces, Loacker's quadratini can be enjoyed as a dessert – or just pop one in your mouth for a quick snack to cure a craving!
Good to Go?
Small bags are easy to take on the go!
Mix it Up!
Play the stacking game! See who can build the tallest tower before the cookies fall!
https://www.loacker.com/int/en/
https://www.facebook.com/LoackerUSA
The Creative Kitchen™, LLC, teaches children about food and how to cook in a fun, safe, and educational manner. Targeting families with children ages two to teen, the company focuses on teaching, writing creative content and curriculum, special events, recipe development, spokesperson work, webisode production and consulting to present educational and entertaining content through food-related activities. The founder, Cricket Azima, is an expert in cooking for and with children. She inspires kids to express themselves creatively through food and cooking, while complementing lessons with traditional educational material such as social studies, math, arts, science, and more. Visit

www.thecreativekitchen.com

for more information.
Related posts