Finding a snack that's equally yummy and healthful can be hard, but Nature Valley makes it easy for parents everywhere with their granola bites! Their Almond Butter Chocolate Granola Bites are a perfect bite-sized combo of creamy almond butter on the inside and a chewy bite of whole grain oats on the outside, with a touch of sweetness from the chocolate. They may be tiny, but their taste sure is mighty! What's even better is that Nature Valley believes in using real ingredients in all of their products, and no artificial colors or sweeteners.
From the Mouth of a Kid:
Wow! They're so soft and chewy and chocolatey!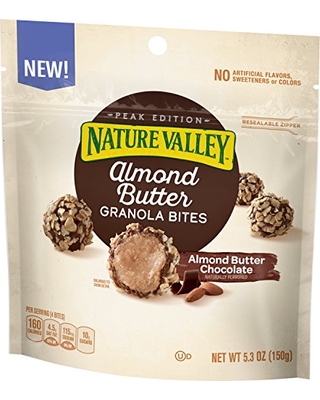 From the Eyes of a Parent:
I love Nature Valley's new line of granola bites because they're easy to take on the go, and they're the perfect bite-sized snack for my kids! Not only are their Almond Butter Chocolate Granola Bites delicious, but they're a better option to give my kids in the morning, for dessert, or as a snack at any time of the day – they're so versatile! Ever since I first purchased them, they've been a go-to for after-school snacks, and my kids can't get enough of them! I love the simple ingredients, and that there aren't any artificial colors or sweeteners. The vitamins, antioxidants, and fiber are added bonuses!
Flavorful Features:
Nature Valley currently has two additional flavors of granola bites:
Peanut Butter Chocolate

Almond Butter Toasted Coconut Chocolate
The Icing on the Cake:
The main benefit to Nature Valley's granola bites is that they're made with whole grains, which are packed with nutrients such as protein, fiber, B vitamins, and antioxidants! The minimal ingredient list is also a bonus!
Time to Eat?!
These Almond Butter Chocolate Granola Bites are great whenever you need a sweet treat but a boost of nutrition in addition! Try them as an after school snack or a healthful dessert!
Good to Go?
Nature Valley has made their packaging perfect for on the go snacking by using resealable bags!
Mix it Up!
Try chopping up some Nature Valley granola bites and stirring them into your favorite yogurt!

https://www.facebook.com/naturevalley
The Creative Kitchen™, LLC, teaches children about food and how to cook in a fun, safe, and educational manner. Targeting families with children ages two to teen, the company focuses on teaching, writing creative content and curriculum, special events, recipe development, spokesperson work, webisode production and consulting to present educational and entertaining content through food-related activities. The founder, Cricket Azima, is an expert in cooking for and with children. She inspires kids to express themselves creatively through food and cooking, while complementing lessons with traditional educational material such as social studies, math, arts, science, and more. Visit

www.thecreativekitchen.com

for more information.
Related posts