Halloween is filled with sweet treats, but after a fun night of trick-or-treating there always seems to be tons of leftover candy. For creative ways to use up all that leftover Halloween candy, have fun making (and eating!) these simple post-Halloween treats and crafts by Cricket Azima, featured on

iVillage

!
Candy Surprise Cupcakes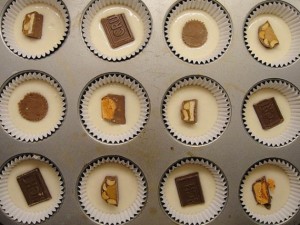 Surprise cupcake lovers with an added attraction! Hide different types of candy bar pieces inside cupcakes. Simply prepare a box of cake mix according to the package instructions. Spoon the batter into cupcake tins so each one is about a quarter full. Place half a miniature candy bar in the center of each (see photo) and cover with additional batter. Bake according to the directions, remove from oven and cool before frosting. (Decorate the cupcakes with other leftover Halloween candy if desired!) A secret treasure will be found buried inside each cupcake – adding an extra smile to everyone's cake-filled mouths.
Candy Bar Fondue
Add an interactive touch to dessert by making fondue with melted chocolate candy bars. Dip marshmallows or fruit (try berries, pineapple, pears or apples) into the thick chocolate sauce. Or, check out our Fruit and Candy Kebab recipe.
Fruit Kebabs
Slide sliced fruit, large marshmallows and chopped candy bars onto skewers and serve as dessert. Or make a self-serve assembly line and call it a "candy bar"! Have the gang make their own skewers with their favorite combinations. For a truly over-the-top experience, dip these kebabs into Candy Bar Fondue.
Candy Corn Pancakes
Take breakfast to another level with these candy-speckled pancakes. Simply make your favorite pancake recipe (or use a store-bought mix), add ¾ cup candy corn and stir to combine. Cook the pancakes normally but make sure you scoop up batter from the bottom of the mixing bowl to catch any sunken candy corn. Serve them warm with a sprinkle of powdered sugar, vanilla or maple-flavored yogurt, or simply butter. Kids will surely get a kick out of this wacky but delicious dish!
Peanut Butter and Banana Candy-Swirl Milkshake
Drink your candy with this decadent treat. Blend vanilla ice cream, chopped Snickers or Baby Ruth candy bars, a touch of milk, a peeled and sliced banana and a few tablespoons of peanut butter. Slurp it down with a straw – but have a spoon at the ready for any goodies that found their way to the bottom of the glass.
Candy Mosaics
For a truly crafty way to use leftover Halloween candy, make mosaics! Use glue – or even frosting – to hold candies onto a piece of construction paper. Use candies of various colors and sizes to design patterns, portray scenes, make faces and more! (Try to resist eating all of your art supplies while creating your masterpiece.)
Candy Centerpieces
Forget flowers! Layer bold-colored candies in a clear vase and use as a decoration around the house. Consider inserting a plastic or handmade paper flower in the center for extra flare!
The Creative Kitchen™, LLC, teaches children about food and how to cook in a fun, safe, and educational manner. Targeting families with children ages two to teen, the company focuses on teaching, writing creative content and curriculum, special events, recipe development, spokesperson work, webisode production and consulting to present educational and entertaining content through food-related activities. The founder, Cricket Azima, is an expert in cooking for and with children. She inspires kids to express themselves creatively through food and cooking, while complementing lessons with traditional educational material such as social studies, math, arts, science, and more. Visit www.thecreativekitchen.com for more information.
Related posts