With its round, cake like shape and cheese melted over the top like frosting, it's understandable how this classic egg dish go the nickname "Breakfast Cake." Though this recipe by
Cricket Azima
from our friends at
ArchetypeMe
looks and sounds decadent, breakfast cake is a simple way to serve a healthful, nutrient-packed breakfast!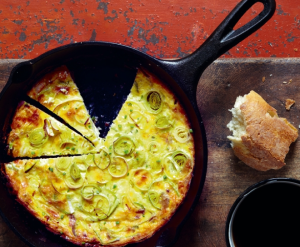 What Matters to Mom?
For one thing, feeling great about serving a homemade breakfast without having to get up at the crack of dawn to cook! What's more, this dish can be whipped up on Sunday, then frozen into individual portions for reheating on hectic weekday mornings- a time- saver. To make it extra-appealing to the kids, this "cake" can be made as "cupcakes" by baking it in a muffin tin for handy single-serving portions. Then there's the satisfaction of sneaking nutrient-rich vegetables into their morning meal.
Breakfast cake can be prepared according to the recipe below, or customized to include other family-favorite vegetables. For example, if your gang is crazy about red peppers and not the biggest fans of zucchini, go ahead and substitute! And since kids are more likely to eat vegetables they've selected themselves, offer an array and have them weigh in. Cook with what you have on hand, or according to individual dietary needs. For a lactose-free version of this dish, simply leave out the cheese. Similarly, for a heftier rendition, stir in leftover pasta.
Yields 8 servings 
Ingredients
1/3 cup olive oil
1 medium onion, diced
1 medium potato, diced
1 small zucchini, diced
1 cup broccoli florets
1 teaspoon salt, divided
Freshly ground black pepper
12 eggs
1/2 cup shredded cheddar
Instructions
1. Heat olive oil in a large cast-iron or nonstick skillet
2. Add onion and cook 2 minutes
3. Add potato, zucchini, and broccoli. Cook, stirring frequently, until vegetables are tender.
4. Add 1/2 teaspoon salt and pepper, to taste.
5. Beat eggs in a bowl. Add remaining salt, to taste.
6. Pour egg mixture over vegetables and stir to combine. Cover and cook approximately 8 to 10 minutes over medium heat without stirring.
7. Sprinkle with cheese and cover. Cook until cheese is melted and eggs are completely set. Cut into wedges.
The Creative Kitchen™, LLC, teaches children about food and how to cook in a fun, safe, and educational manner. Targeting families with children ages two to teen, the company focuses on teaching, writing creative content and curriculum, special events, recipe development, spokesperson work, webisode production and consulting to present educational and entertaining content through food-related activities. The founder, Cricket Azima, is an expert in cooking for and with children.  She inspires kids to express themselves creatively through food and cooking, while complementing lessons with traditional educational material such as social studies, math, arts, science, and more. Visit www.thecreativekitchen.com for more information.
Related posts