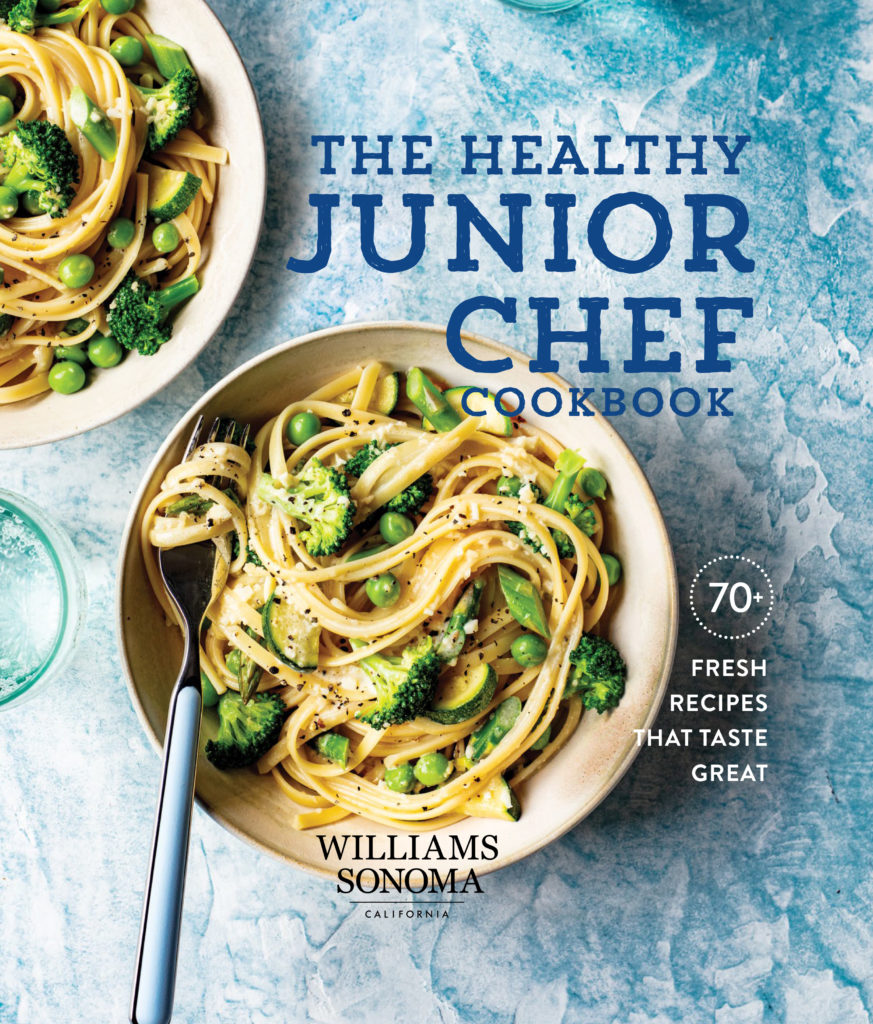 Popsicles for breakfast?! Sign us up! Looking for some new recipes to help refresh mealtime at home? Or maybe you'd like to find some nutritious recipes that your kids will not only enjoy eating (a tricky business, we know), but will actually want to help make? One of our most tried and true beliefs when it comes to kids and food is that cooking is a multi-faceted learning opportunity. When children are involved in the cooking process, including the selection of ingredients, they're more likely to try new, unfamiliar foods!
We love supporting programs and resources that reinforce this philosophy, and that's why we're thrilled to share an amazing cookbook with you: The Healthy Junior Chef Cookbook from Williams-Sonoma. Providing recipes that are simultaneously delicious and nutritious, this cookbook will inspire kids to get creative in the kitchen and enjoy the entire cooking process! Remember those 'breakfast popsicles' we mentioned before? Yogurt Parfait Breakfast Pops are just one of the many fun and delicious dishes you'll find in this book. The photography alone will have the whole family drooling, parents included (just look at that cover!). The easy to follow instructions, colorful illustrations, and expert cooking tips will keep both kids AND adults engaged in the kitchen and inspired to eat well – now who doesn't want that?  
Grab a copy of The Healthy Junior Chef Cookbook here

!
From the Mouth of a Kid:
I like to cook with this cookbook! It's fun and yummy! I like the pictures!
From the Eyes of a Parent:
What a fun and easy way to get your kids involved in the kitchen (and still make something even mom and dad will enjoy)! I try to do this on my own on a regular basis, but sometimes it's nice to have some concrete help and advice. We love each recipe we've tried so far, and my kids love planning out our meals for each week and picking out the ingredients we need. The recipes are easy enough to follow so my younger kids can participate, but interesting enough that my older ones are still engaged! Everything in this book is kid-friendly, but so delicious that parents will enjoy them as well. I'd recommend this book to any aspiring young chef, or even families like ours that just wanted our kids to get a little more excited about cooking. So far, my favorite recipe is the Chicken and Pineapple Kebabs, they're perfect for summer BBQ's! My kids' favorite is the Homemade Fruit Roll Ups; they have a great time making those, and they're so yummy too!
Flavorful Features:
There's more than 70 recipes for everything from breakfast and snacks to main courses and desserts, all kid-friendly with easy to follow instructions. There's also fun serving ideas included to keep the creative juices flowing! Recipes include: Zucchini Lasagna with Turkey Bolognese, Spaghetti with Cauliflower Pesto, Homemade Fruit Roll Ups, Broccoli Apple Lunchbox Slaw, and so much more. 
The Icing on the Cake:
Our favorite part about this cookbook is how each recipe is focused on the nutrition it provides, without sacrificing the fun and delicious flavors that kids love!
Mix it Up!
Get an extremely early start on holiday shopping with this book, perfect for any little chef who wants some more practice in the kitchen (not to mention some yummy meals and snacks the whole family can eat!).
The Creative Kitchen™, LLC, teaches children about food and how to cook in a fun, safe, and educational manner. Targeting families with children ages two to teen, the company focuses on teaching, writing creative content and curriculum, special events, recipe development, spokesperson work, webisode production and consulting to present educational and entertaining content through food-related activities. The founder, Cricket Azima, is an expert in cooking for and with children. She inspires kids to express themselves creatively through food and cooking, while complementing lessons with traditional educational material such as social studies, math, arts, science, and more. Visit

www.thecreativekitchen.com

for more information.
Related posts