Don't be a statistic! Most kids (and adults) in America don't consume their recommended daily intakes of fruits and vegetables. Fruits are usually a bit easier for kids to eat since they're naturally sweet. In fact, at The Creative Kitchen we love to serve fruit as dessert. Whether for a snack or dessert, if the kids aren't springing for fresh fruit, why not try

Brothers All-Natural Disney Fruit Crisps

? Their single-serve packets are great for on-the-go, and you won't have to worry about finding squished fruit at the bottom of your bag. Plus, they contain up to two servings of fruit with no added sugar or preservatives!
From the Mouth of a Kid:
These are crunchy and sweet. I love that Mickey's on the bag.
From the Eyes of a Parent:
The nutrients in apples and bananas are things I want my children to have, and the Fruit Crisps are such an easy way for my kids to get them. The crisps are crunchy like chips, so they love to eat them! These are great to keep in the car or in my bag as a healthy treat to reach for anytime my kids want a snack.
Flavorful Features:
The Brother's All-Natural Fruit Crisps come in a wide array of fruit options:
Apple
Apple Cinnamon
Banana
Banana & Strawberries
Asian Pear
Pineapple
Peach 
Each 24-pack features a different Disney Character on it from Mickey's Clubhouse, Cars, and Disney Princesses.
The Icing on the Cake: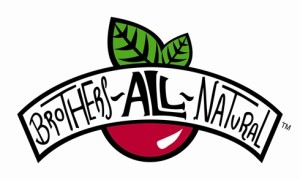 These snack are allergy friendly. They are gluten-free, soy-free, dairy-free, vegan, Kosher, and only contain fruit (and sometimes, cinnamon). No sugars added, no preservatives – just freeze-dried fruit.
Good to Go?
Yes! The individual packets can be stashed anywhere for on-the-go uses. 
Time to Eat?!
Pack these pouches for lunch, take them on trips, swap and share flavors with friends at anytime!
Mix it Up!
Crush up the fruit crisps and mix into oatmeal, yogurt, or a batter for pancakes or waffles.
The Creative Kitchen™, LLC, teaches children about food and how to cook in a fun, safe, and educational manner. Targeting families with children ages two to teen, the company focuses on teaching, writing creative content and curriculum, special events, recipe development, spokesperson work, webisode production and consulting to present educational and entertaining content through food-related activities. The founder, Cricket Azima, is an expert in cooking for and with children.  She inspires kids to express themselves creatively through food and cooking, while complementing lessons with traditional educational material such as social studies, math, arts, science, and more. Visit

www.thecreativekitchen.com

for more information.
Related posts