Thanksgiving is approaching. It's the time of year when we gather with family and friends, sharing and creating traditions. Thanksgiving is also a time to eat and enjoy a most delicious meal. Our friends at

Cooking Light

have put a delicious spin on the classic holiday side, stuffing, with this

Apple, Cranberry and Pecan Stuffing.

Your little chef can help by cutting up the fruit, vegetables and tearing up the bread.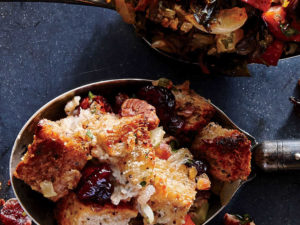 Ingredients:
12 ounces whole-grain bread, cut into 3/4-in. cubes
2 tablespoons canola oil
1 cup chopped onion
1/2 cup chopped celery
1/2 cup chopped carrot
1 large Fuji apple, diced (about 2 cups)
1 cup pecan halves, toasted and coarsely chopped
1/2 cup dried cranberries
1/4 cup chopped fresh flat-leaf parsley
3/4 teaspoon kosher salt
3/4 teaspoon black pepper
2 cups unsalted chicken stock (such as Swanson)
3 tablespoons unsalted butter, melted
2 large eggs
Cooking spray
Instructions:

1. Preheat oven to 400°F.
2. Arrange bread cubes on a rimmed baking sheet. Bake at 400°F for 20 minutes, stirring after 10 minutes. Place bread in a large bowl.
3. Reduce oven temperature to 350°F.
4. Heat oil in a large skillet over medium-high. Add onion, celery, and carrot to pan; sauté 6 minutes. Add apple; cook 4 minutes. Stir in pecans, cranberries, parsley, salt, and pepper. Add apple mixture to bread; toss.
5. Combine stock, butter, and eggs in a bowl. Drizzle over bread mixture; toss. Let stand 15 minutes. Spoon into a 13- x 9-inch glass or ceramic baking dish coated with cooking spray. Bake at 350°F for 25 minutes.

Tips & Trick:
For the vegetarians at your table, you can substitute vegetable stock for the chicken stock.
Raisins and walnuts can work in place of the cranberries and pecans
The Creative Kitchen™, LLC, teaches children about food and how to cook in a fun, safe, and educational manner. Targeting families with children ages two to teen, the company focuses on teaching, writing creative content and curriculum, special events, recipe development, spokesperson work, webisode production and consulting to present educational and entertaining content through food-related activities. The founder, Cricket Azima, is an expert in cooking for and with children. She inspires kids to express themselves creatively through food and cooking, while complementing lessons with traditional educational material such as social studies, math, arts, science, and more. Visit www.thecreativekitchen.com for more information.
Related posts