Inspired by cheesy broccoli-and-rice casserole, these crispy cakes from our friends at Cooking Light can be made ahead of time and frozen for a delicious, nutritious, last-minute meal. These vegetable cakes are hands-free and cook in the oven, making this a quick dinner idea. Serve with the veggie or side of your choice, or try these Sweet and Spicy Carrots and Peas 

that Cooking Light suggests.
Here's your game plan: while the oven preheats, prepare both the broccoli and carrot mixtures. While the carrots bake, prepare the cakes.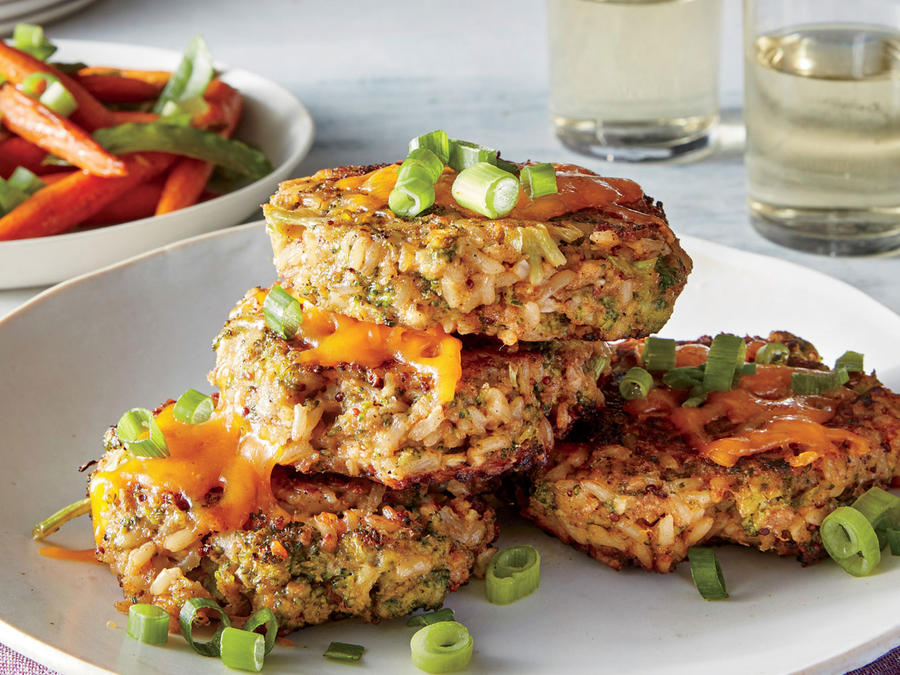 Ingredients:
Cooking spray
1 tablespoon unsalted butter
3/4 cup chopped yellow onion
4 garlic cloves, chopped
3/4 cup unsalted vegetable stock (such as Swanson)
12 ounces fresh broccoli florets, cut into 1/2-in. pieces
1 (8.8-oz.) pkg. precooked brown rice (such as Uncle Ben's)
1/4 cup whole-wheat panko (Japanese breadcrumbs)
1 tablespoon grainy mustard
1/2 teaspoon black pepper
3/8 teaspoon kosher salt
3 ounces pre-shredded reduced-fat sharp cheddar cheese, divided (about 3/4 cup)
2 large eggs, lightly beaten
Sliced green onions (optional)
Instructions:
Preheat oven to 450°F. Coat a baking sheet with cooking spray.
Melt butter in a large skillet over medium-high. Add onion and garlic; sauté 4 minutes. Add stock and broccoli. Bring to a boil; cook 3 minutes.
Heat rice according to package directions. Combine broccoli mixture, rice, panko, mustard, pepper, salt, and 1/2 cup cheese in a large bowl. Stir in eggs. Divide and shape broccoli mixture into 8 (2 1/2-inch) patties. Arrange patties on prepared pan; coat patties with cooking spray. Bake at 450°F for 15 minutes. Top with remaining 1/4 cup cheese, and bake at 450°F for 4 more minutes or until cheese melts. Garnish with green onions, if desired.
Serves 4 (serving size: 2 cakes)
Calories 280; Fat 10.6g (sat 5.2g, mono 3g, poly 11g); Protein 15g; Carbs 33g; Fiber 5g; Sugars 2g (est. added sugars 0g); Cholesterol 113 mg; Iron 2mg; Sodium 554 mg; Calcium 268 mg.

Tips & Trick:
Kids can help chop the veggies and shape the cakes!
The Creative Kitchen™, LLC, teaches children about food and how to cook in a fun, safe, and educational manner. Targeting families with children ages two to teen, the company focuses on teaching, writing creative content and curriculum, special events, recipe development, spokesperson work, webisode production and consulting to present educational and entertaining content through food-related activities. The founder, Cricket Azima, is an expert in cooking for and with children. She inspires kids to express themselves creatively through food and cooking, while complementing lessons with traditional educational material such as social studies, math, arts, science, and more. Visit www.thecreativekitchen.com for more information.
Related posts