Let's talk about breakfast: the most frequently overlooked yet simultaneously most important meal of the day. While we know it's just easier and faster to throw together a bowl of cereal than whip up a nutritious and filling breakfast before racing out the door to work and school, but a little preparation can change that! Our friends at Cooking Light have put a delicious, healthful recipe for Browned Butter Whole-Wheat Muffins that can help make breakfast great again! Make these ahead of time, freeze, and take out whenever you need them.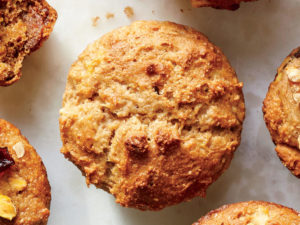 Ingredients:
6 oz. whole-wheat flour (about 1 1/2 cups)
1/4 cup wheat bran
1 tsp. baking powder
1 tsp. baking soda
1/2 tsp. kosher salt
2 Tbsp. unsalted butter
1 cup plain low-fat yogurt
1/2 cup packed light brown sugar
1 tsp. vanilla extract
1 medium ripe banana, mashed (about 1/2 cup)
1 large egg
Cooking spray
Instructions:

1. Preheat oven to 375°F.
2. Weigh or lightly spoon flour into dry measuring cups; level with a knife. Combine flour, wheat bran, and next 3 ingredients (through salt) in a large bowl, stirring with a whisk.
3. Melt butter in a small skillet over medium; cook 90 seconds or until browned and fragrant, swirling pan frequently. Combine butter, yogurt, sugar, vanilla, banana, and egg in a bowl. Add yogurt mixture to flour mixture, stirring just until combined. Divide batter evenly among 12 muffin cups coated with cooking spray. Bake at 375°F for 22 minutes or until a wooden pick inserted in center comes out clean. Cool in pan 5 minutes. Remove from pan; cool completely on a wire rack.

Mix it Up:
Our friends at Cooking Light created three tasty variations of these muffins. Check them out!
Cherry-Gingerbread Muffins: Add 1/2 cup chopped dried cherries, 1/3 cup molasses, 1 tsp. ground cinnamon, 1 tsp. ground ginger, and 1/4 tsp. ground allspice to muffin batter. Bake as directed.
Figgy Walnut Muffins: Add 3/4 cup sliced dried figs, 1/2 cup coarsely chopped walnuts, and 1 tsp. ground cinnamon to muffin batter. Bake as directed.
Cranberry, Orange, and Pistachio Muffins: Add 1/2 cup dried cranberries, 1/2 cup chopped unsalted pistachios, 1 1/2 tsp. grated orange rind, and 1/4 cup fresh orange juice to muffin batter. Bake as directed.
The Creative Kitchen™, LLC, teaches children about food and how to cook in a fun, safe, and educational manner. Targeting families with children ages two to teen, the company focuses on teaching, writing creative content and curriculum, special events, recipe development, spokesperson work, webisode production and consulting to present educational and entertaining content through food-related activities. The founder, Cricket Azima, is an expert in cooking for and with children. She inspires kids to express themselves creatively through food and cooking, while complementing lessons with traditional educational material such as social studies, math, arts, science, and more. Visit www.thecreativekitchen.com for more information.
Related posts