Looking for your next summer staple? This Corn, Tomato, and Basil Salad from our friends at Cooking Light will be a big hit at your next backyard get-together! Salting the tomatoes and letting them stand draws out their juices so they'll meld with the dressing when you combine all the components. This simple yet exquisite salad can be enjoyed all season long, and it's best when shared with friends and family on a warm summer night!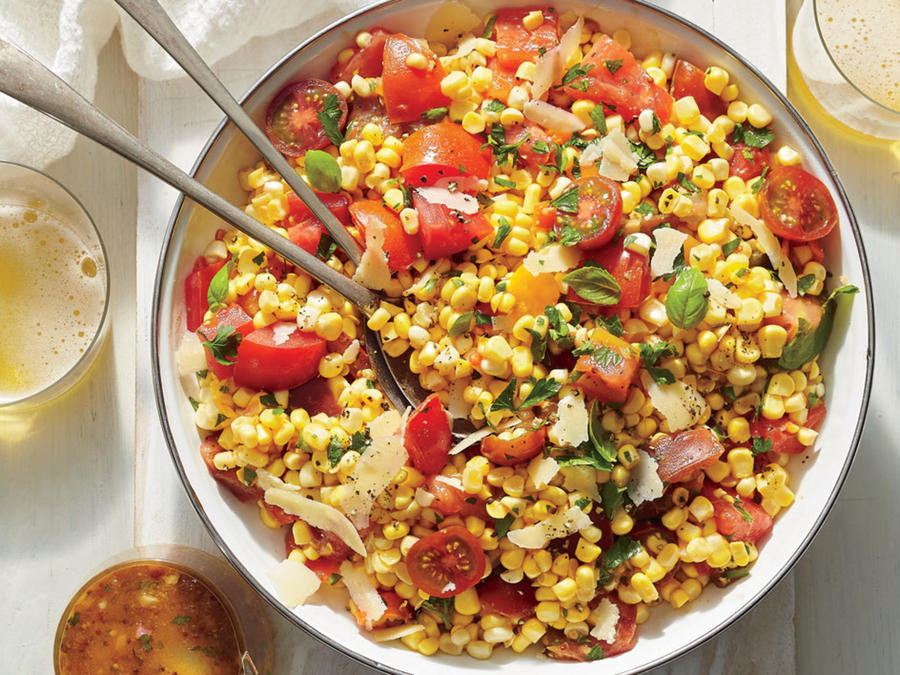 Ingredients:
2 large ripe heirloom tomatoes, cored and cut into 1-in. dice, or 1 diced heirloom tomato and 1 cup halved cherry tomatoes
1/2 teaspoon kosher salt
1/3 cup extra-virgin olive oil
1 tablespoon minced flat-leaf parsley
3 tablespoons red wine vinegar
1 tablespoon grainy mustard
1 tablespoon reduced-sodium soy sauce
1 tablespoon white miso
1 medium shallot, peeled and minced
2 cups fresh yellow and white corn kernels
1/4 cup shaved Parmigiano-Reggiano (about 1 oz.)
2 tablespoons coarsely chopped fresh flat-leaf parsley
12 fresh basil leaves, torn into small pieces
Instructions:

Place tomatoes in a large bowl. Sprinkle with salt; let stand 30 minutes at room temperature.

Combine oil and next 6 ingredients (through shallot) in a pint jar. Seal jar; shake 30 seconds or until blended.

Add vinaigrette, corn, cheese, chopped parsley, and basil to tomatoes. Toss gently to combine; serve immediately.

Tips & Trick:
Kids can help salt tomatoes and shake dressing ingredients!
The Creative Kitchen™, LLC, teaches children about food and how to cook in a fun, safe, and educational manner. Targeting families with children ages two to teen, the company focuses on teaching, writing creative content and curriculum, special events, recipe development, spokesperson work, webisode production and consulting to present educational and entertaining content through food-related activities. The founder, Cricket Azima, is an expert in cooking for and with children. She inspires kids to express themselves creatively through food and cooking, while complementing lessons with traditional educational material such as social studies, math, arts, science, and more. Visit www.thecreativekitchen.com for more information.
Related posts