With summer winding down, there are less opportunities to get out and grill. This

Honey-Brined Grilled Shrimp

from our friends at

Cooking Light

is a fast and easy way to celebrate the last days of summer.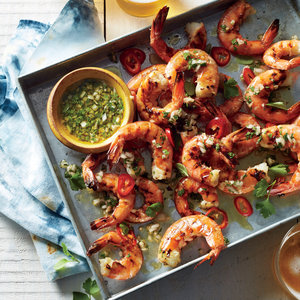 Ingredients:
1 1/2 pounds unpeeled large shrimp
2 tablespoons kosher salt
5 tablespoons wildflower honey, divided
3 tablespoons red wine vinegar
1/4 cup extra-virgin olive oil
2 1/4 cup finely chopped fresh flat-leaf parsley
3 tablespoons finely chopped white onion
2 tablespoons finely chopped fresh oregano
1 small red Fresno chile, thinly sliced
Instructions:

1. Devein shrimp, and remove legs from shells, if desired. (Do not remove shells from shrimp.) Combine 1 cup boiling water, salt, and 2 1/2 tablespoons honey in a large bowl; stir until the salt dissolves. Add ice cubes; stir until mixture cools. Add shrimp, and refrigerate 20 minutes. Remove shrimp from bowl, discarding liquid. Pat shrimp dry with paper towels; toss shrimp with 1 1/2 teaspoons honey.
2. Preheat grill to medium-high heat.
3. Place red wine vinegar and remaining 2 tablespoons honey in a large bowl; stir with a whisk to combine. Gradually add olive oil, stirring constantly with a whisk until well blended. Stir in parsley, onion, oregano, and garlic.
4. Arrange unpeeled shrimp on grill grates coated with cooking spray; grill shrimp, uncovered, 2 1/2 minutes on each side or until lightly charred and cooked through. Add shrimp to bowl with vinegar mixture; toss well to coat. Arrange shrimp mixture on a platter; top with sliced Fresno chile.

Tips & Trick:
Ask your fish monger to devein your shrimp ahead of time.
If Fresno chiles are too spicy for your little ones, replace them with sweet bell peppers.
The Creative Kitchen™, LLC, teaches children about food and how to cook in a fun, safe, and educational manner. Targeting families with children ages two to teen, the company focuses on teaching, writing creative content and curriculum, special events, recipe development, spokesperson work, webisode production and consulting to present educational and entertaining content through food-related activities. The founder, Cricket Azima, is an expert in cooking for and with children. She inspires kids to express themselves creatively through food and cooking, while complementing lessons with traditional educational material such as social studies, math, arts, science, and more. Visit www.thecreativekitchen.com for more information.
Related posts