Summer is quickly approaching, and with it comes the onset of backyard barbecue season! Sharing delicious meals with friends and family on warm summer nights, what more do you need? Our friends at Cooking Light have put together Kicky Black Bean Burgers that make a fantastic vegetarian meal, and can be easily customized to please dozens of different palates. Instead of using Pepper Jack, why not use provolone or mozzarella and top the patties with basil leaves instead of lettuce? Or, take the Mexican theme further with sliced ripe avocado and a dash of hot sauce.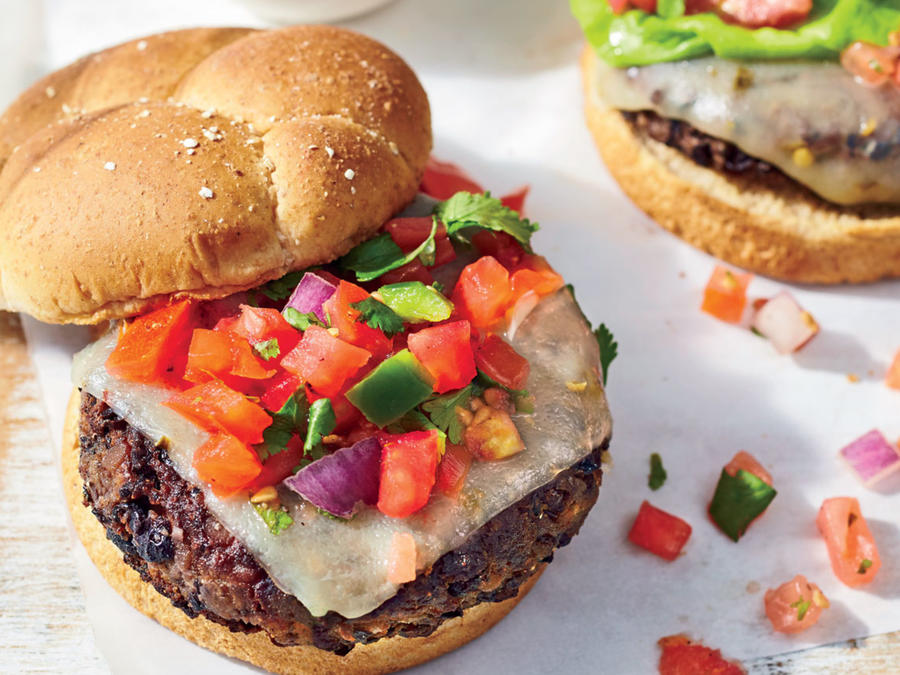 Ingredients:
1 (15-oz.) can unsalted black beans, drained
5 (1 1/4-oz.) whole-wheat hamburger buns, toasted and divided
3/4 teaspoon ground cumin
1/2 teaspoon garlic powder
1/4 teaspoon salt
1/4 teaspoon black pepper
1 large egg, lightly beaten
1 large egg white, lightly beaten
2 tablespoons canola oil
2 ounces sliced pepper-Jack or Monterey Jack cheese
1/2 cup fresh refrigerated pico de gallo
4 lettuce leaves
Instructions:

Place beans in a large bowl; mash with a fork. Place 1 toasted bun, torn, in a food processor; pulse until fine crumbs form. Stir breadcrumbs, cumin, and next 5 ingredients (through egg white) into beans.

Divide and shape bean mixture into 4 (1-inch-thick) patties. Heat oil in a large skillet over medium-high. Add patties to pan; cook 4 minutes on each side or until browned.

Divide cheese evenly among patties; cook 1 minute or until cheese melts. Top bottom halves of remaining 4 buns evenly with patties, pico de gallo, lettuce, and top halves of buns.

Tips & Trick:
If you don't have a food processor, you can sub about 2/3 cup plain breadcrumbs for the torn bun.
Kids can help mix the ingredients and form the patties!
The Creative Kitchen™, LLC, teaches children about food and how to cook in a fun, safe, and educational manner. Targeting families with children ages two to teen, the company focuses on teaching, writing creative content and curriculum, special events, recipe development, spokesperson work, webisode production and consulting to present educational and entertaining content through food-related activities. The founder, Cricket Azima, is an expert in cooking for and with children. She inspires kids to express themselves creatively through food and cooking, while complementing lessons with traditional educational material such as social studies, math, arts, science, and more. Visit www.thecreativekitchen.com for more information.
Related posts