The Creative Kitchen is a proud member of the

Cooking Light

Bloggers Connection! We love Cooking Light for their healthful twists on classic recipes and simple tips for cooking meals for the family.
They

 teamed up with author and Cooking Light contributor, Allison Fishman Task, to release 

Lighten Up, America!

 

–

 

a fantastic celebration of regional American cooking. Traveling across the continent, Allison reveals the culinary traditions behind your favorite dishes, from gumbo to a good old Memphis barbecue! This book is filled with family-friendly recipes of classic American favorites with clever substitutions to create healthful versions the whole family will enjoy!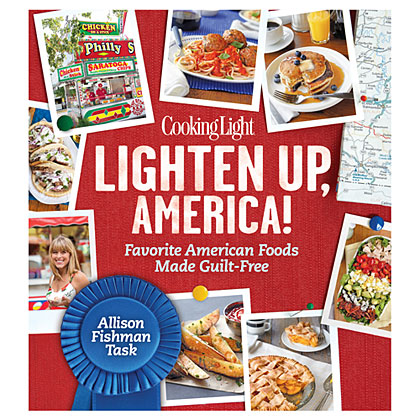 From the Eyes of a Parent:
It's so great to have a cookbook that combines healthy eating, American traditions, and the stories behind the foods! I love knowing the traditions behind my favorite dishes and being able to share them with my family at dinnertime. 
Flavorful Features:
Classic American Dishes Made Lighter
Regional Culinary Traditions
Insider's View of Festivals and Fairs
Food Born in America
The Icing on the Cake:
The clever recipe makeovers – lighter ingredients with more flavor!
The Creative Kitchen™, LLC, teaches children about food and how to cook in a fun, safe, and educational manner. Targeting families with children ages two to teen, the company focuses on teaching, writing creative content and curriculum, special events, recipe development, spokesperson work, webisode production and consulting to present educational and entertaining content through food-related activities. The founder, Cricket Azima, is an expert in cooking for and with children. She inspires kids to express themselves creatively through food and cooking, while complementing lessons with traditional educational material such as social studies, math, arts, science, and more. Visit www.thecreativekitchen.com for more information.
Related posts