From working all day to running around to your kids' after school activities, it can be hard to get home cooked meals on the table every night. Luckily, our friends at

Cooking Light

have come up with a super delicious recipe for

homemade frozen pizzas

! If you have the time, get your kids involved for a make-your-own pizza party. Cook up as many pizzas as you want tonight, and freeze the rest – it's that simple! View the recipe below and 

click here

for more great freezer-friendly recipes and tips from Cooking Light.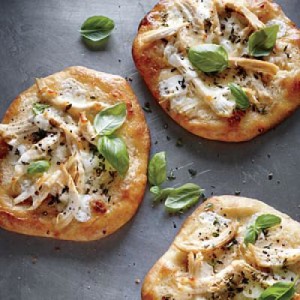 Individual White Chicken Pizzas
Ingredients
30 ounces refrigerated fresh pizza dough, divided
1/2 cup olive oil
1/4 cup chopped fresh basil
1 teaspoon crushed red pepper
8 garlic cloves, crushed
4 thyme sprigs
4 cups 2% reduced-fat milk
1 cup plain fat-free Greek yogurt
4 teaspoons cider vinegar
1/2 teaspoon kosher salt
12 ounces shredded cooked chicken breast
6.5 ounces preshredded reduced-fat 4-cheese Italian-blend cheese (about 1 2/3 cups)
3 ounces fresh part-skim mozzarella cheese, torn into small pieces
2 tablespoons fresh thyme leaves
1 1/2 teaspoons freshly ground black pepper
1/2 cup small fresh basil leaves
Instructions
1. Place a pizza stone or heavy baking sheet in oven. Preheat oven to 450° (keep pizza stone or baking sheet in oven as it preheats).
2. Let pizza dough rest, covered, at room temperature as oven preheats.
3. Combine oil and next 4 ingredients (through thyme sprigs) in a small saucepan over medium heat. Cook 4 minutes or until garlic begins to brown, stirring frequently. Remove from heat; let stand 5 minutes. Strain mixture through a fine sieve over a small bowl; discard solids.
4. Combine milk, yogurt, and vinegar in a large microwave-safe bowl. Microwave at HIGH 6 minutes. Gently stir to form small curds. Strain curds through a fine sieve; let stand 5 minutes. Discard liquid. Combine oil mixture, cheese curds, and salt, stirring gently.
5. Divide dough into 12 equal pieces (about 2.5 ounces each). Roll each piece into a 6-inch circle on a lightly floured surface (keep dough covered with a damp towel to prevent drying). Spread about 1 1/2 tablespoons oil mixture over each pizza, leaving a 1/2-inch border. Divide chicken, Italian-blend cheese, and mozzarella cheese evenly among pizzas; sprinkle evenly with thyme leaves and black pepper. Carefully remove pizza stone from oven. Arrange 3 to 4 pizzas on pizza stone. Bake at 450° for 8 minutes or until dough is golden and cheese browns. Repeat procedure with remaining pizzas, or follow freezing instructions. Sprinkle pizzas evenly with fresh basil leaves.
TO FREEZE: Bake pizzas on preheated stone for only 5 minutes. Cool; wrap individually in heavy-duty foil, stack, and freeze up to 2 months.
TO REHEAT: No thawing: Place frozen pizzas on a baking sheet that's not preheated; bake at 450° for 13 minutes or until cheese browns.
Tips & Tricks
Add a pop of color and nutrients to your pizza with fresh vegetables! This pizza would be delicious topped with sun dried or fresh tomatoes, chopped broccoli, or arugula.
The Creative Kitchen™, LLC, teaches children about food and how to cook in a fun, safe, and educational manner. Targeting families with children ages two to teen, the company focuses on teaching, writing creative content and curriculum, special events, recipe development, spokesperson work, webisode production and consulting to present educational and entertaining content through food-related activities. The founder, Cricket Azima, is an expert in cooking for and with children. She inspires kids to express themselves creatively through food and cooking, while complementing lessons with traditional educational material such as social studies, math, arts, science, and more. Visit www.thecreativekitchen.com for more information.
Related posts