Is pasta a mealtime favorite in your house? Our friends at Cooking Light have a delicious pasta recipe that is full of bold flavor and is easy to whip together on a busy weeknight. This recipe for Mostly Veggie Pasta with Sausage uses hot Italian sausage as the main flavor agent in the sauce, and includes colorful vegetables like yellow squash, broccoli florets, and mushrooms. Tomato paste adds a robust flavor; look for the kind sold in tubes so you can use as little or as much as you need. Little chefs can help chop ingredients and stir them all together!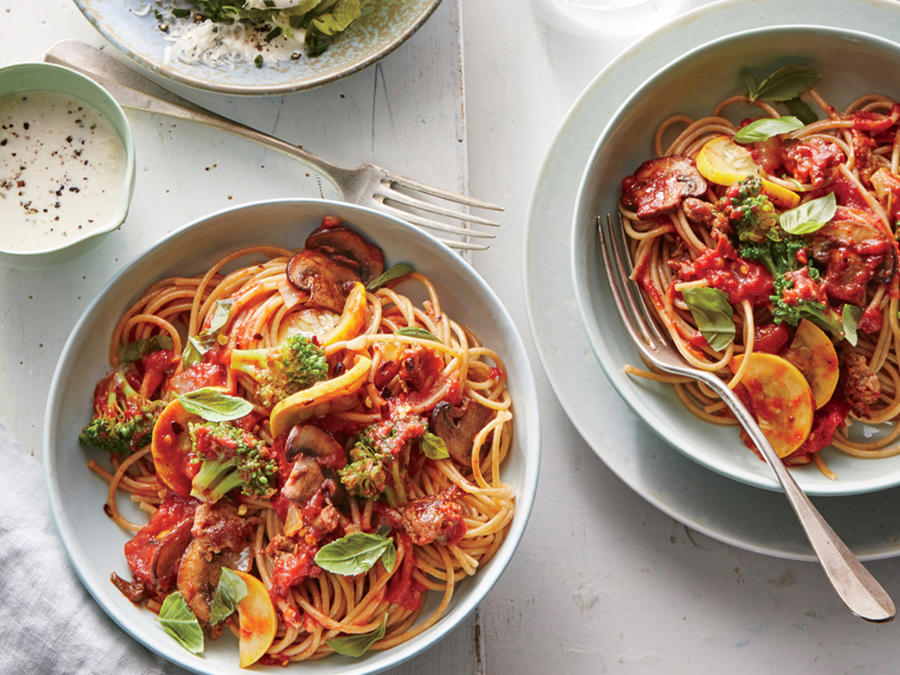 Serves 4 (serving size: 1/2 cup pasta and 3/4 cup sauce)
Ingredients:
8 ounces uncooked whole-wheat spaghetti
1 tablespoon olive oil
6 ounces hot turkey Italian sausage, casings removed
2 cups chopped yellow onion
6 garlic cloves, minced
1 1/2 cups chopped cremini mushrooms (about 4 oz.)
2 small yellow squash, halved lengthwise and cut into 1/4-in. slices (about 7 oz. each)
1 tablespoon unsalted tomato paste
1 tablespoon chopped fresh oregano
2 cups small broccoli florets
1/2 teaspoon kosher salt
1/4 teaspoon crushed red pepper
1 (14-oz.) can unsalted whole peeled tomatoes, undrained
1/4 cup torn fresh basil leaves
Instructions:

Cook pasta according to package directions, omitting salt and fat. Drain.

Heat oil in a large nonstick skillet over medium-high. Add sausage; cook 4 minutes, stirring to crumble. Add onion and garlic; cook 3 minutes. Add mushrooms and squash; cook 4 minutes. Stir in tomato paste and oregano; cook 1 minute.

Add broccoli, salt, pepper, and tomatoes to pan; bring to a boil. Reduce heat, and simmer 10 minutes, breaking up tomatoes with a spoon. Spoon sauce over pasta; top with basil.

Tips & Trick:
For the vegetarians at your table, omit the sausage and add another vegetable of your choosing!
Beyond pasta, spoon this veggie-packed sauce over breaded and baked eggplant slices or roasted spaghetti squash halves.
The Creative Kitchen™, LLC, teaches children about food and how to cook in a fun, safe, and educational manner. Targeting families with children ages two to teen, the company focuses on teaching, writing creative content and curriculum, special events, recipe development, spokesperson work, webisode production and consulting to present educational and entertaining content through food-related activities. The founder, Cricket Azima, is an expert in cooking for and with children. She inspires kids to express themselves creatively through food and cooking, while complementing lessons with traditional educational material such as social studies, math, arts, science, and more. Visit www.thecreativekitchen.com for more information.
Related posts