Celebrating Passover this spring? Finish off your meal with one (or a few!) of these tempting desserts. Our friends at

Cooking Light

created these Seder-friendly sweets to navigate the dietary restrictions of Passover. We think these treats would be a welcome finale to any meal!
Chocolate-Orange Cake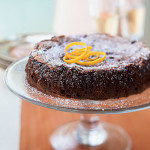 Whipped egg whites add air to the cake, which puffs high as it bakes, then falls as it cools. Pureed dates add a pleasing texture and exotic sweetness. The candied orange rind that garnishes this dessert would also work with other recipes–and it's a delicious sweet shade on its own.
Click here for the recipe!
Chocolate Pavlovas with Honeyed Strawberries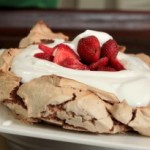 Some sources claim that this dessert was originated by an Australian chef in the 1920s for the ballerina Anna Pavlova. The shells were updated with a little cocoa in the meringue, which goes well with strawberries. Pavlovas do not respond well to high humidity; if they soften, place in a low-heat oven for 5 minutes to crisp.
Click here for the recipe!
Caramelized Pecan-Praline Roulade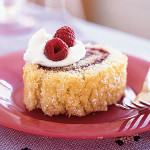 Praline Powder is made by mixing pecans with caramelized sugar, then grinding the mixture. This recipe makes more than you need for the roulade, but keep it on hand to sprinkle over sliced apples or cinnamon toast for a quick, easy treat. The cake can be made and rolled a day in advance; the filling is best the day it is made.
Click here for the recipe!
The Creative Kitchen™, LLC, teaches children about food and how to cook in a fun, safe, and educational manner. Targeting families with children ages two to teen, the company focuses on teaching, writing creative content and curriculum, special events, recipe development, spokesperson work, webisode production and consulting to present educational and entertaining content through food-related activities. The founder, Cricket Azima, is an expert in cooking for and with children. She inspires kids to express themselves creatively through food and cooking, while complementing lessons with traditional educational material such as social studies, math, arts, science, and more. Visit www.thecreativekitchen.com for more information.
Related posts