Looking for a simple yet special breakfast that will please every member of the family, both big and small? Look no further than this recipe for Shirred Eggs with Marinara and Feta from our friends at Cooking Light. Simply crack an egg in a ramekin or mini cocotte, add the other ingredients, and wait for it to bake.  With bold flavors and healthful ingredients, this is a breakfast (or dinner!) you can feel good about eating.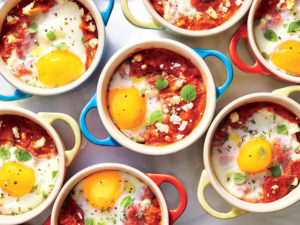 Ingredients:
4 ounces sourdough bread, cut into 1/4-inch cubes
2 teaspoons extra-virgin olive oil
4 large eggs
1/2 teaspoon kosher salt
1/4 teaspoon black pepper
1/4 cup lower-sodium marinara sauce
4 teaspoons crumbled feta cheese
2 teaspoons chopped fresh oregano
Instructions:

1. Preheat oven to 375°F.
2. Place bread cubes on a sheet pan; bake at 375°F for 13 minutes or until browned and crisp.
3. Rub 1/2 teaspoon oil into each of 4 (8-ounce) mini cocottes or ramekins to coat inside. Divide bread cubes among cocottes. Crack one egg into each cocotte. Season each egg with 1/8 teaspoon salt and a dash of pepper. Spoon 1 tablespoon marinara into each. Sprinkle each with 1 teaspoon feta. Place cocottes in oven; bake at 375°F for 12 minutes or until whites are set. Sprinkle with oregano. Drizzle with additional oil, if desired.

Tips and Tricks:
Have your little chef help with cracking eggs and placing other ingredients in the cocottes/ramekins!
Opt for a different kind of cheese if feta isn't your thing, such as mozzarella or cheddar.
The Creative Kitchen™, LLC, teaches children about food and how to cook in a fun, safe, and educational manner. Targeting families with children ages two to teen, the company focuses on teaching, writing creative content and curriculum, special events, recipe development, spokesperson work, webisode production and consulting to present educational and entertaining content through food-related activities. The founder, Cricket Azima, is an expert in cooking for and with children. She inspires kids to express themselves creatively through food and cooking, while complementing lessons with traditional educational material such as social studies, math, arts, science, and more. Visit www.thecreativekitchen.com for more information.
Related posts