A common misconception about cooking is that in order to create a truly delicious and healthy meal, you have to buy dozens of ingredients and spend hours in the kitchen chopping, mixing, baking, and preparing your ingredients only to be completely exhausted afterwards. Our friends at Cooking Light prove that this isn't the case at all! This Tortellini, Chicken, and Arugula salad comes together in a cinch thanks to the use of a few quality items such as hearty cheese tortellini and shredded rotisserie chicken. Prepare the dressing and pasta ahead of time to make the final assembly even faster. Who knew making dinner on busy weekday nights could be so easy?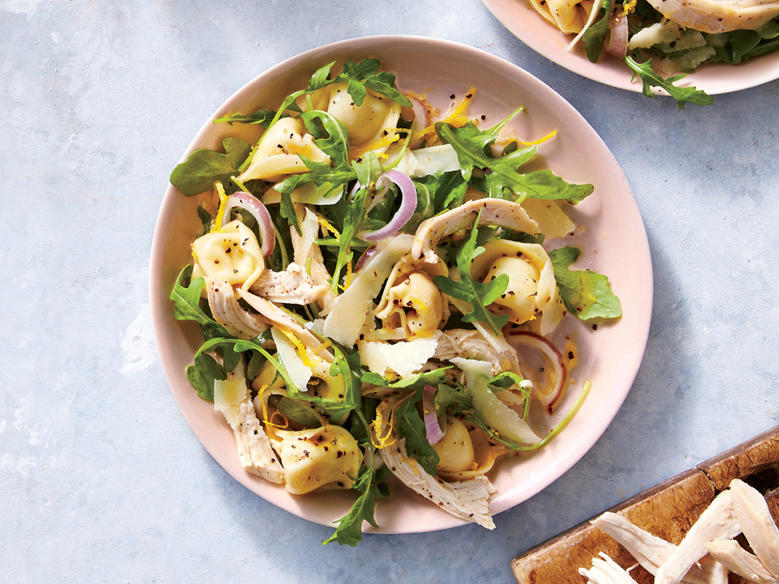 Ingredients:
1 (9-oz.) package refrigerated cheese tortellini (such as Buitoni), cooked according to package directions
8 ounces skinless, boneless rotisserie chicken breast, shredded (about 2 cups)
1 garlic clove, finely chopped
1/8 teaspoon kosher salt
3 tablespoons extra-virgin olive oil
1/2 teaspoon grated lemon rind
2 tablespoons fresh lemon juice
1/2 teaspoon granulated sugar
1/2 teaspoon freshly ground black pepper
3 cups baby arugula
1/3 cup thinly sliced shallot
3/4 ounce Parmesan cheese, shaved (about 1/4 cup)
Instructions:

Place tortellini and chicken in a large bowl.

Combine garlic and salt on a cutting board. Mash with the side of a knife to form a paste. Place in a small bowl. Add oil, rind, juice, sugar, and pepper; stir with a whisk.

Add 2 tablespoons dressing to tortellini and chicken; toss to coat. Gently fold in arugula, shallot, and remaining dressing. Sprinkle with shaved Parmesan cheese.

Tips & Trick:
For a gluten-free option, substitute the tortellini for brown rice pasta or quinoa.
Kids can help shred the chicken and mix the dressing!
The Creative Kitchen™, LLC, teaches children about food and how to cook in a fun, safe, and educational manner. Targeting families with children ages two to teen, the company focuses on teaching, writing creative content and curriculum, special events, recipe development, spokesperson work, webisode production and consulting to present educational and entertaining content through food-related activities. The founder, Cricket Azima, is an expert in cooking for and with children. She inspires kids to express themselves creatively through food and cooking, while complementing lessons with traditional educational material such as social studies, math, arts, science, and more. Visit www.thecreativekitchen.com for more information.
Related posts