Often in the summertime you want a quick and easy meal without any of the fuss of having to cook. This 

Veggie Salad in a Jar

from our friends at

Cooking Light

is the perfect choice. Super versatile, these salads can be made a day ahead and your little ones can have fun picking and choosing what ingredients they'd like to add to this appetizing meal.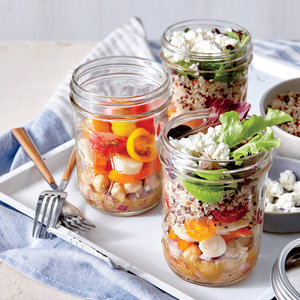 Ingredients:
2 tablespoons extra-virgin olive oil, divided
1 tablespoon red or white wine vinegar
1/4 teaspoon black pepper
1/2 cup chopped red onion
1/2 cup rinsed and drained canned lower-sodium chickpeas
1/2 cup sliced orange bell pepper
1/2 cup sliced hearts of palm
1/2 cup halved cherry or grape tomatoes
2 cups small leaf lettuce (such as romaine, spinach, and mesclun blend)
1 ounce feta cheese, crumbled (about 1/4 cup)
Instructions:

1. Combine olive oil, vinegar, mustard, pepper, and salt in a 1-pint mason jar with a lid; shake well to blend. Divide dressing between 2 (1-pint) mason jars.
2. Divide onion between the 2 jars. Repeat procedure with chickpeas, bell pepper, hearts of palm, tomatoes, and quinoa.
3. Divide lettuce between the 2 jars, gently pressing down to fit. Divide cheese between the 2 jars; secure lids on jars.
4. Refrigerate salad up to 1 day. Shake jar to distribute dressing before serving. Eat straight from the jar, or empty contents into a bowl.

Tips & Trick:
Pack your salads tightly with the dressing on the bottom, followed by denser ingredients that won't get soggy while they marinate.
This recipe is easily adaptable and easy to transport.
The Creative Kitchen™, LLC, teaches children about food and how to cook in a fun, safe, and educational manner. Targeting families with children ages two to teen, the company focuses on teaching, writing creative content and curriculum, special events, recipe development, spokesperson work, webisode production and consulting to present educational and entertaining content through food-related activities. The founder, Cricket Azima, is an expert in cooking for and with children. She inspires kids to express themselves creatively through food and cooking, while complementing lessons with traditional educational material such as social studies, math, arts, science, and more. Visit www.thecreativekitchen.com for more information.
Related posts