Everybody Can Cook
Enriching cooking curricula with adaptations for children of diverse physical and developmental abilities. For use with children ages 2+.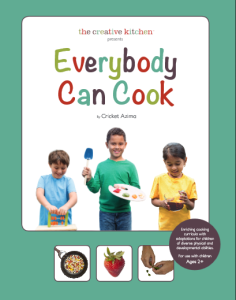 A comprehensive cooking curricula and teaching program that goes beyond simply providing recipes and lesson plans to use in the classroom. Everybody Can Cook was developed to allow instructors in both general and special education classrooms to bring hands-on cooking classes to children of all abilities, ages 2 and up, and designed to create a positive relationship between children and food. Its recipes are adaptable to all skill sets, ages, and environments allowing instructors to easily customize each lesson to their classes' abilities. It supports participants with unique components such as training for teachers/therapists, pictorial recipes for visual learners, ingredient adaptations for dietary restrictions and availability, pre-­ordered grocery lists with a delivery system, parent/caregiver support sessions, focus on dietary commonalities for the population and more! Lesson plans are structured for children of all abilities and are facilitated in a convenient and fun fashion, furthering educational and developmental skills sets.
Through this curricula, teachers will be supporting a positive change in the wellness landscape, and children will learn life-long lessons through food-education, while having a deliciously fun time!
Each book features:
Step-by-step guide to classroom cooking and a thorough introduction of how to teach with a sample scripted lesson plan
15 recipes and comprehensive lesson plans, complete with shopping and equipment lists for each recipe
Adaptations for various physical and developmental abilities and ingredient substitutions for dietary restrictions, allergies, and ingredient availability
Pictorial Recipes to support visual learners
Learning objectives, with divisions for early and advance learners and ways to integrate Common Core State Standards
Recommended related songs and books to enhance lesson plans
Learning cards in English and Spanish, featuring photographs of food on the front, and "how-to" prepare ingredients for classrooms + fun facts on the back
Nutrition guide to foster understanding of why certain food are good to eat
Kids learn through food and practice basic cooking skills as they enhance other traditional disciplines such as reading, mathematics, science, social sciences, nutrition, music, art, history and geography. In addition, children strengthen their motor skills, self-esteem, socialization, cultural understanding, teamwork, independence, and personal responsibility.
Training workshops by The Creative Kitchen team may be offered as a one-day course, an in-classroom, practical mentorship program, or may be tailored to suit custom needs. Through Everybody Can Cook training workshops, instructors will gain an understanding of the importance of hands-on cooking for children, knowledge to successfully teach children of all abilities to cook and thrive in the classroom, and skills to have fun while teaching! Teachers will feel empowered to teach cooking classes to children of all abilities and ages.
Testimonials
"People like me are always talking about how important it is to teach kids to cook. You aren't sure how? Cricket Azima's Everybody Can Cook is just what you need to have fun with your kids in the kitchen. The recipes are easy and delicious. Get your kids to start making dinner!"
 – Marion Nestle, professor of nutrition, food studies, and public health at New York university, and author of What to Eat
"Cricket Azima has brilliantly combined creative cooking lessons with traditional school subjects to create a progressive learning environment where children gain knowledge of both their core subjects and the benefits of nutrition, healthy eating, and the basics of how to cook. These are lifelong skills children learn that will help combat the national obesity problem and empower young people to take their own health into their own hands from an early age. The Creative Kitchen is critical to helping today's children live long, healthy, productive lives."
– Diane Hatz, Founder & Executive Director, Change Food
"Cricket's interaction with our students has been wonderful. Using a creative, fun, hands-on approach to learn about cooking and food enables children with developmental delays and disabilities to develop a greater understanding of the world around them and important skills to engage with it. The curricula provides teachers and families with a new opportunity to connect it a truly enjoyable, meaningful way."
– Dr. Bernadette Flynn, Executive Director, New York League for Early Learning
"Cooking with Cricket was a learning and rewarding experience for our school. It was amazing to see our students fully participating in cooking activities written by Cricket with adaptations and accommodations created by Roosevelt Children's staff."
– Dr. Yukiko Okuma, Principal of the Roosevelt Children's Center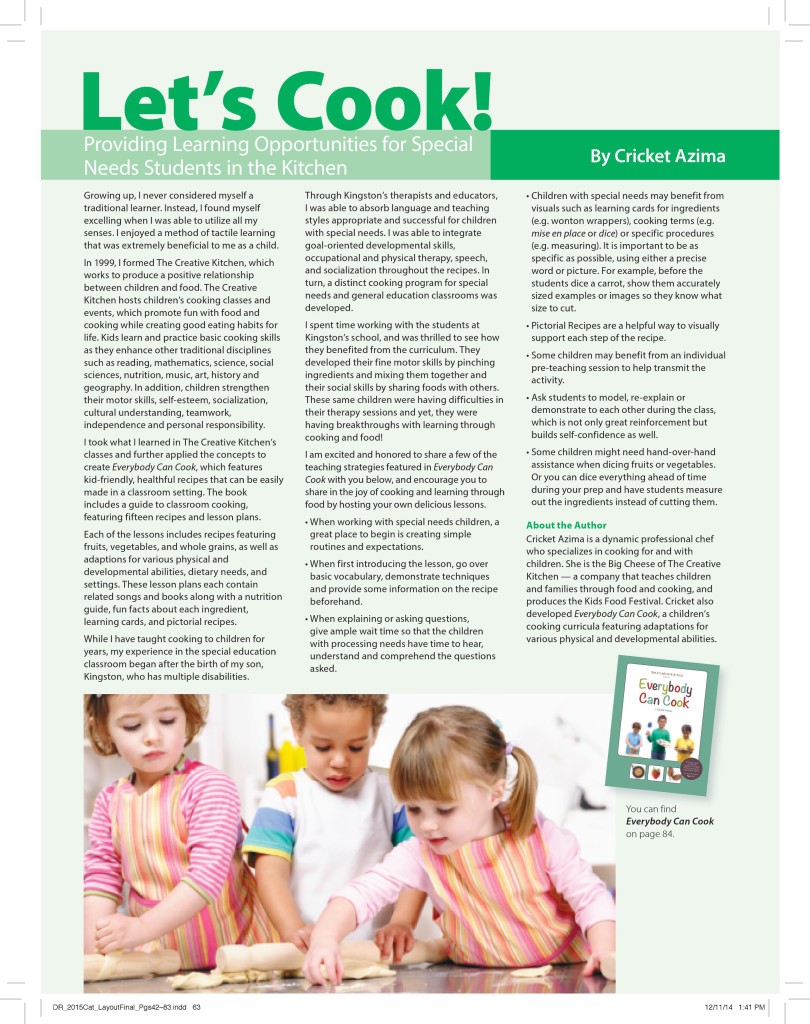 Customized Classroom Curriculum:
The Creative Kitchen boasts more than 14 years of experience in curriculum development and teaching. We follow the latest trends and advances to provide the most up-to-­date programs. Our recipes are specifically developed and tested for use in classroom environments, for children aged two through teens. The Creative Kitchen offers exclusive curriculum enrichment programs that enhance existing lesson plans in schools, programs, and day cares to fit classroom needs.
Children will develop a sense of confidence and accomplishment as they taste their way through the lesson, while learning about new foods, shapes, numbers, colors, geography, and social skills. Parents will be just as excited when they see how many new fruits and vegetables their kids will adopt to their routine diets!
For information on Everybody Eats Lunch, click here!