Here at The Creative Kitchen, everyday is Food Day! On a daily basis, we educate children about and through cooking. However, some children do not get the opportunity to learn about food or to learn which foods are the good foods for our bodies. That is where

Jamie Oliver's Food Revolution Day

comes in! Food Revolution Day is focused on getting kids excited about food and cooking up delicious, nutritious meals from scratch.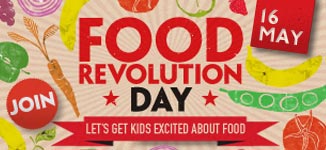 With the ever-growing market of highly processed unhealthy foods increasing everyday and the decline in families eating whole or homemade foods, it can be difficult for a child (or an adult!) to determine which foods provide proper nutrients and which "foods" just provide empty calories, sugar, salt, and fat. This is reflected in the large amount of diet-related issues faced by millions worldwide – and especially in the epidemic levels of childhood obesity in the United States. Diet-related disease, including heart disease, diabetes, and obesity, are among the leading causes of death and are generally avoidable with healthful diets of fresh foods and minimally processed products.
Since 1999, The Creative Kitchen's founder, Cricket Azima, has been supporting food education throughout New York City, teaching children ages two years old and up – and their families too. Cricket works to produce a positive relationship between children and food, while having fun in the kitchen and creating healthy eating habits for life.  Recipes are fruit and vegetable based – and naturally kid-friendly and delicious! Kids learn and practice basic cooking skills as they enhance other traditional disciplines such as reading, mathematics, science, social sciences, nutrition, music, art, history and geography, in age-appropriate And FUN ways. In addition, children strengthen their motor skills, self-esteem, socialization, cultural understanding, teamwork, independence and personal responsibility.
In addition to classes and events, The Creative Kitchen also produces the Kids Food Festival, a series of food events, programmed with the assistance of the James Beard Foundation, that educates families on how to make balanced food choices. Cricket also developed Everybody Can Cook, a curricula featuring adaptations for special needs children with various physical and developmental abilities. She works with a variety of food companies, offering services including spokesperson, recipe development and testing, freelance writing, teaching, family outreach, blogging, creating webisodes, special events, and consulting.
Since 2002, renowned chef Jaime Oliver has been encouraging families and schools to get back to the basics and cook meals full of fresh local produce instead of relying on heavily processed fast foods. This year, his global day of action Food Revolution Day is on Friday, May 16. It is being celebrated all around the globe, with 100 countries and over 105,000 participants taking part in the movement! You can get involved too by visiting the official website and adding you name to the growing list of Food Revolution Day participants!
Join the Food Revolution celebratory events!  If you're in New York City, come cook with Cricket Azima and The Creative Kitchen's team at Whole Foods Market, Tribeca location (second floor café space) from 3:30pm to 4:30pm.  Bring your family and have fun learning to make (and eat!) Jamie Oliver's Rainbow Salad Wrap.  Register in advance by calling (718) 406-7506 or email Events@TheCreativeKitchen.com.
Can't make it to the class?  Watch Jamie's LIVE cooking lesson and cook along with his Rainbow Salad Wrap recipe. Food Revolution Day is all about having fun with food, eating delicious creations cooked by you, and spreading the word about real food!
Tag #FRD2014 in your pictures and social media posts to be featured on the Food Day Revolution Website!
The Creative Kitchen™, LLC, teaches children about food and how to cook in a fun, safe, and educational manner. Targeting families with children ages two to teen, the company focuses on teaching, writing creative content and curriculum, special events, recipe development, spokesperson work, webisode production and consulting to present educational and entertaining content through food-related activities. The founder, Cricket Azima, is an expert in cooking for and with children. She inspires kids to express themselves creatively through food and cooking, while complementing lessons with traditional educational material such as social studies, math, arts, science, and more. Visit www.thecreativekitchen.com for more information.
Related posts