Grab your kids and grow your own popcorn! A snack that's healthful, flavorful, and educational? Now that's something that The Creative Kitchen can get behind! This month, one of our favorite better-for-you snack options,

Angie's Boomchickapop

popcorn, is gearing up their Grow Some Boom campaign, encouraging families to test out their green thumbs, grow, and ultimately pop and enjoy their very own popcorn at home.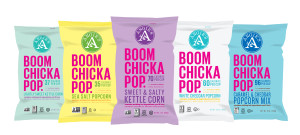 Husband-and-wife duo Dan and Angie Bastian of Angie's Boomchickapop already sell deliciously snackable natural popcorn without any GMOs, high-fructose corn syrup, trans fat, and artificial sweeteners, flavors, or preservatives. And now through the end of April, Angie's is giving away their secret: their seeds!
Simply visit www.growsomeboom.com to order their untreated, non-GMO, organic popcorn seeds online, or pick them up in-store wherever you purchase Boomchickapop ((try Costco, Target, Whole Foods, regional grocery stores, co-ops, and health food stores.) Then head to their Facebook page for tips, tricks, and support on growing popcorn.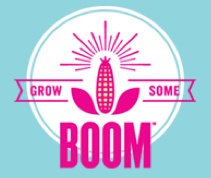 The goal is to get consumers off the couch and into the garden. Make growing your own popcorn a family activity! All it takes are some seeds and a little TLC to teach kids where their family's food comes from, and how easy it is to grow better-for-you snacks at home that are popped, not processed.

The Creative Kitchen™, LLC, teaches children about food and how to cook in a fun, safe, and educational manner. Targeting families with children ages two to teen, the company focuses on teaching, writing creative content and curriculum, special events, recipe development, spokesperson work, webisode production and consulting to present educational and entertaining content through food-related activities. The founder, Cricket Azima, is an expert in cooking for and with children. She inspires kids to express themselves creatively through food and cooking, while complementing lessons with traditional educational material such as social studies, math, arts, science, and more. Visit www.thecreativekitchen.com for more information.
Related posts