Looking for the perfect homemade gift? Get creative in the kitchen this holiday season with fun kitchen crafts! These delicious and great smelling gifts are made with items found in the kitchen and are great to make with your kids.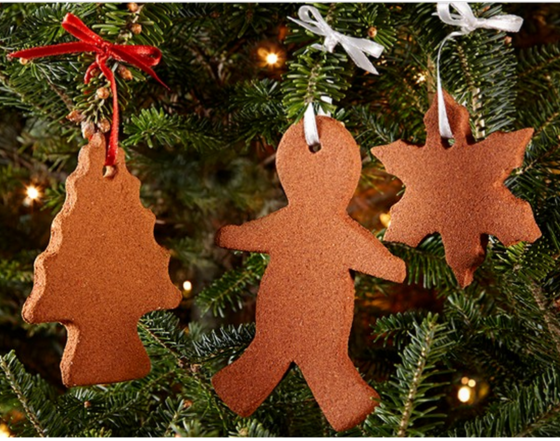 Cinnamon Dough Cookie Ornaments inspired by McCormick
Ingredients:
1 large mixing bowl
1 wooden spoon
1/2 cup ground cinnamon plus extra for dusting
1/2 cup applesauce
1 roll wax paper
1 rolling pin
Assorted 2 to 3 inch cookie cutters
Skewers or drinking straws
1 to 2 baking pans
Acrylic or puff paints, various colors
Generous handful sequin or glitter
Ribbon
Makes 12 to 15 ornaments
Directions:
In a large bowl, pour cinnamon and gradually mix in applesauce with a wooden spoon until the mixture becomes a stiff dough.
Using your hands, create a ball of dough.
Place the ball of dough on a sheet of waxed paper dusted with extra cinnamon and flatten slightly using your fingers.
Top with a second sheet of wax paper. Using a rolling pin, flatten the dough into an even layer, about 1/4 to 1/8 inch thick.
Use cookie cutters or your own templates to cut out fun shapes.
Create a hole at the top of the ornament using a skewer or drinking straw.
Air dry creations on a wax paper covered cookie sheet or a cooling rack for at least 24 hours until they are completely hard.
To dry ornaments faster, preheat oven to 200°F. Place ornaments on a parchment lined baking pan and bake until very dry and very hard. Allow to cool before decorating.
Once fully set, decorate using paints, or adhere sparkly sequins and glitter using school glue.

Scones in a Jar
Ingredients:
1 mason jar
1 sheet cardstock
plastic wrap
2 1/2 cups all-purpose flour
1/2 cup granulated white sugar
2 teaspoons baking powder
1/2 teaspoon salt
1 cup white chocolate chips
1 cup dried cherries
1 printed recipe cards for scones in a jar
Ribbon
Makes 1 Jar
Directions:
Give each child a mason jar and a sheet of cardstock.
Help children form their cardstock into a funnel shape and place into the opening of the mason jar, ensuring that the edges are sticking out of the jar. This will help them neatly pour each ingredient into their jar.
Have the children pour each ingredient into their jar, one at a time, beginning with the flour. Tap the jar on the table after each addition to create an even layer.
Wrap dried cherries in plastic wrap to prevent moisture from seeping into the dried ingredients.
Screw the lid on tight and attach the recipe card to the jar using ribbon or tape.
The Creative Kitchen™, LLC, teaches children about food and how to cook in a fun, safe, and educational manner. Targeting families with children ages two to teen, the company focuses on teaching, writing creative content and curriculum, special events, recipe development, spokesperson work, webisode production and consulting to present educational and entertaining content through food-related activities. The founder, Cricket Azima, is an expert in cooking for and with children. She inspires kids to express themselves creatively through food and cooking, while complementing lessons with traditional educational material such as social studies, math, arts, science, and more. Visit www.thecreativekitchen.com for more information.
Related posts