It may be winter, but here at The Creative Kitchen, we've got salsa on our mind. Today, Cricket shares her go-to recipe for Kids Food Festival Fresh, Flavorful & Fun Salsa, a colorful concoction that shakes up boring salsa recipes by adding in kid-friendly fresh fruit. Cricket suggests dicing the ingredients small, so you can challenge your children to fit as many colors as they can onto one tortilla chip! To see how Cricket makes it, watch her segment on CBS's The Couch, or, catch Cricket and her namesake salsa at the next Kids Food Festival this March!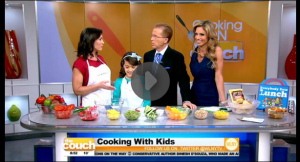 Ingredients:
4 tomatoes
1 cup strawberries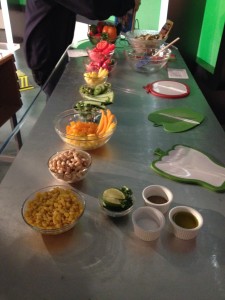 1 mango
2 kiwifruit

1 seedless cucumber
2 different colored bell peppers

1 15.5-ounce can cannellini beans
1 8-ounce can corn
1 cup fresh cilantro leaves
2 limes
olive oil, to taste
salt and pepper, to taste
chips (baked chips for a healthier option)
Directions:
1. Dice tomatoes, strawberries, mango, kiwifruit, cucumber, and peppers and place in a medium mixing bowl.
2. Add beans and corn to the bowl and stir together.
3. Tear or chop cilantro leaves and add to the bowl.
4. Dress salsa with lime juice, olive oil, salt, and pepper, to taste. Mix well and eat with chips!
Bite-Sized Tips:
Hands-On Helping: Kids can help cut fruits and vegetables with a kid-friendly safety knife.
Include the Whole Family: Even the youngest helpers can wash the produce and tear the fresh herbs.
Balance is Best: For great guidelines, ChooseMyPlate.gov.
Make Smart Food Choices: Ask kids to pick three favorite fruits instead of fruits listed above! Vote on a bean variety instead of white beans. Have the family choose between cilantro and mint.
The Creative Kitchen™, LLC, teaches children about food and how to cook in a fun, safe, and educational manner.  Targeting families with children ages two to teen, the company focuses on teaching, writing creative content and curriculum, special events, recipe development, spokesperson work, webisode production and consulting to present educational and entertaining content through food-related activities. The founder, Cricket Azima, is an expert in cooking for and with children.  She inspires kids to express themselves creatively through food and cooking, while complementing lessons with traditional educational material such as social studies, math, arts, science, and more. Visit www.thecreativekitchen.com for more information.

Related posts