Looking for a typical light and crispy rice cake?

Lundberg Family Farms

' Organic Kettle Corn Rice Cakes are not the typical kind. We love these dense and delicious rice cakes because they're packed with rice and have a sweet and fun flavor that everyone can enjoy!
From the Mouth of a Kid:
They're super crunchy and even taste like popcorn!
From the Eyes of a Parent: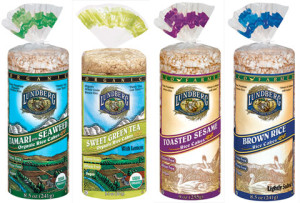 These rice cakes are a simple and easy treat for my kids. I can keep them around the house for easy snacking without worrying about a lot of sodium or calories. Since they are made with brown rice and are dense, one 80-calorie cake tends to be filling for my little one (and two are great for my older ones!) Since Lundberg Family Farms Organic Kettle Corn Rice Cakes are denser, they contain twice the flavor, value, whole grains, and nutrition.
Flavorful Features:
Each 8.5-oz "heavy little bag" of cakes come in a wide variety of flavors including:
Sweet Chili

Sesame Tamari

Mochi

Koku Seaweed

Flax with Tamari

Hemp-a-licious

Wild Rice

Cinnamon Toast

Caramel Corn

Salt Free Brown Rice

Lighlty Salted Brown Rice

5 Eco-Farmed flavors (Brown Rice, Honey Nut, Buttery Caramel, Salt Free Brown Rice, and Apple Cinnamon)
The Icing on the Cake:
Made with both organic and non-GMO verified ingredients, these rice cakes are not only good for you, but are made from good stuff, too. Plus, they are gluten free, soy free, Kosher, and vegan.
Good to Go?

Yes! Just pack them in a baggie and they are ready for travel.
Time to Eat?!
Send a few to school with your kids for a crunchy snack with lunch. Or, serve them as an after-school snack with sliced fruit.
Mix it Up!

Spread some peanut butter onto a rice cake for a great snack that packs nutrition and protein all in one punch.
The Creative Kitchen™, LLC, teaches children about food and how to cook in a fun, safe, and educational manner. Targeting families with children ages two to teen, the company focuses on teaching, writing creative content and curriculum, special events, recipe development, spokesperson work, webisode production and consulting to present educational and entertaining content through food-related activities. The founder, Cricket Azima, is an expert in cooking for and with children. She inspires kids to express themselves creatively through food and cooking, while complementing lessons with traditional educational material such as social studies, math, arts, science, and more. Visit www.thecreativekitchen.com for more information.
Related posts