Established in 2010, Mina's Purely Divine is committed to delivering safe, versatile, allergen-friendly products that produce gourmet gluten-free baked goods for your family to enjoy.
From the Mouth of a Kid: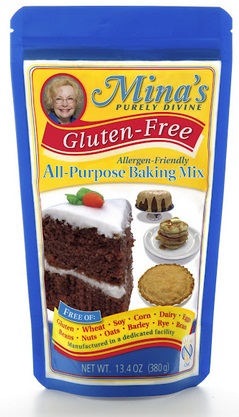 Light and fluffy, just like pancakes should be! 
From the Eyes of a Parent:
Dairy-free, gluten-free, soy-free and bean-free.
 Forget those cardboard flapjacks, you can't beat these light and fluffy, sure-to-be-gobbled-up-at-breakfast pancakes!
Breakfast…but who said you can't have breakfast for dinner?!
Fill two cookie cutters or pancake rings for quick, homemade sandwich rolls.  
Check back tomorrow for a great recipe! 
Related posts