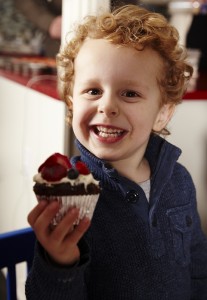 Does your child love to help you in the kitchen? Does he or she ask to slice, dice and mix with you or spend hours cooking pretend meals in his or her play kitchen? Treat your little chef to a complete hands-on cooking experience with The Creative Kitchen! The host boy or girl and their party or play date guests will have a blast making child-friendly meals from start to finish and participating in fun food activities.
The Creative Kitchen makes it easy for you to host a party in the convenience of your home. You provide the space, we provide the rest!  Don't have room? That's ok, too! We have teamed up with many kid hot-spots throughout the city to add even more fun and excitement to our party packages.
Packages can be adapted for special needs children! 
Milk and dessert is generously provided by our friends at Organic Valley!
Questions about booking, reserving or our menu?
Email Events@TheCreativeKitchen.com or call 718-406-7506.
Choose either a party or a playdate: 

Choose from one of the following themes:
Enjoy your party or playdate at one of the following locations:
With a Cherry on Top!
Let our team get EXTRA creative with these special cooking activities!  These themes are perfect for custom cooking clubs, play-dates, slumber parties, private classes or otherwise. Please inquire about how to coordinate these special events.
The fine print:
On the day of the event The Creative Kitchen team arrives approximately 30-45 minutes before the start time to set up the cooking activity.
For in-home or private venue events, there must be cleared table space for each child.
A 50% deposit is required at the time of scheduling. Payment in full must be made 14 days prior to event.
There is an additional fee for events scheduled within 14 days of event date dependent on size and scope of event. Events scheduled within 14 days of the event date must be paid in full upon scheduling. No refunds can be made on event made with short notice.
If a cancellation is made prior to 14 days of event date, payment will be refunded; less the non-refundable deposit and tax. No refunds will be made for event cancellations within 14 days of event.
On site event add-ons are subject to availability and feasibility. Day of additions must be paid in cash or check directly to The Creative Kitchen team leader at the event.
Parents of participants must sign The Creative Kitchen waiver prior to cooking activity.
The Creative Kitchen is not responsible for damage to venue.