Sometimes, there's nothing better than a bite of fresh fruit, like a juicy apple or strawberry. Here at The Creative Kitchen, we love satisfying our cravings, whatever they might be and wherever they may happen! When we're in the mood for a fruity treat on the go, we reach for BEAR Nibbles super sour strawberry-apple yoyos

. These snacks are perfect to throw into your purse or your kiddo's lunchbox! Not only are they are full of fruit and fiber, but they're also vegan, gluten-free, and non-GMO. In fact, they're made from 100% fruits and vegetables. Your whole family will love their sweet taste and sour kick!
From the Mouth of a Kid:
They taste like sour candy worms!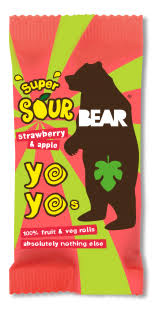 From the Eyes of a Parent:
There's no question as to why BEAR Nibbles Super sour strawberry-apple yoyos are adored in my home. These travel-sized treats are chewy, fruity, and packed with a ton of goodness. And their sour kick adds a fun twist! They're made with lemons, pumpkin, strawberry, apple, pear, and absolutely no hidden ingredients. We love this sweet and sour treat for after-school snacking or a quick dessert after dinner.
Flavorful Features:
BEAR Nibbles Yoyos come in five other fun flavors:
Strawberry

Mango

Apple

Raspberry

Super sour mango & apple
The Icing on the Cake:
BEAR Nibbles Super sour strawberry-apple yoyos are an all-around great snack to have on hand. They're gluten-free, dairy-free, vegan, non-GMO, and made with 100% real fruits and vegetables!
Time to Eat?!
When your sweet tooth is acting up, satisfy your craving with BEAR Nibbles Super sour strawberry-apple yoyos! Perfect for anytime-snacking, whenever you're craving a fruity treat with a sour twist
Good to Go?
BEAR Nibbles Yoyos are made for on the go snacking! They're individually wrapped, making them perfect to throw into your purse or your child's backpack.
https://m.facebook.com/bearnibbles

The Creative Kitchen™, LLC, teaches children about food and how to cook in a fun, safe, and educational manner. Targeting families with children ages two to teen, the company focuses on teaching, writing creative content and curriculum, special events, recipe development, spokesperson work, webisode production and consulting to present educational and entertaining content through food-related activities. The founder, Cricket Azima, is an expert in cooking for and with children. She inspires kids to express themselves creatively through food and cooking, while complementing lessons with traditional educational material such as social studies, math, arts, science, and more. Visit

www.thecreativekitchen.com

for more information.
Related posts