When it comes to healthy snacks everyone can enjoy, Chosen Foods Bites With Chia is the snack we choose! The goodness of chia seeds blends perfectly with the crunchiness of organic almonds pecans, and sesame seeds in these nutritious, semi-sweet treats. With 4g of protein, 4g of fiber, 900mg of omega-3, and only 6g of sugar per serving, each snack pack is full of nutrients to keep you and your family energized all day. Plus, chia seeds are brain food, making these the perfect snack to help your kids stay focused at school!
From the Mouth of a Kid:
I love this crunchy snack when I get home from school!
From the Eyes of a Parent: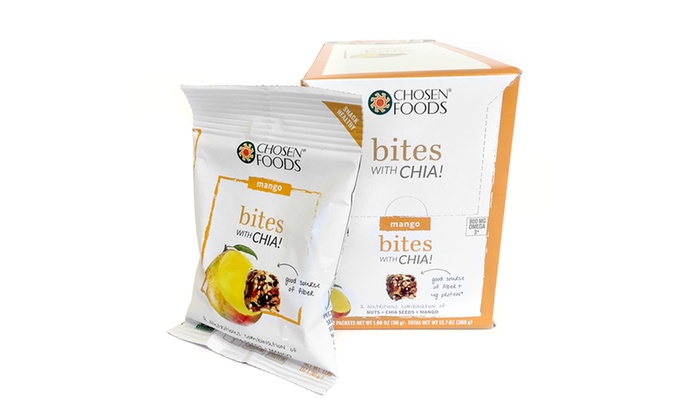 It can be tough to find a nutritious snack that satisfies the whole family, especially when we're on the go. That's why I love Chosen Foods Bites with Chia! They're packed with nutritious nuts and seeds, plus they come in single-serving pouches and are bite sized, which means no mess when my kids eat them in the car or on the bus. Chosen Foods prides itself on promoting transparency within the health food industry, and is a brand I can feel good about buying for my family.

Flavorful Features:
Chosen Foods Bites with Chia come in Vanilla and Mango flavors.

The Icing on the Cake:
Chosen Foods Bites with Chia are all natural, gluten-free, vegan, and non-GMO verified.

Time to Eat?!
Breakfast or snack time! These nutritious bites are perfect for a morning or mid-day energy boost.

Good to Go?
Yes! Chosen Foods Bites with Chia come in individually wrapped, 1-oz pouches for easy, on-the-go snacking.
Mix it Up!
Add these tasty bites to your favorite yogurt or trail mix for added nutrition and natural sweetness.
The Creative Kitchen™, LLC, teaches children about food and how to cook in a fun, safe, and educational manner. Targeting families with children ages two to teen, the company focuses on teaching, writing creative content and curriculum, special events, recipe development, spokesperson work, webisode production and consulting to present educational and entertaining content through food-related activities. The founder, Cricket Azima, is an expert in cooking for and with children. She inspires kids to express themselves creatively through food and cooking, while complementing lessons with traditional educational material such as social studies, math, arts, science, and more. Visit

www.thecreativekitchen.com

for more information.
Related posts