Looking for a sweet snack your whole family can enjoy any time of day? Reach for a bag of all-natural 

Crispy Green brand Crispy Frui

t! Crispy Green's freeze drying process takes real fruits like bananas, tangerines, and mangoes and turns them into delightfully crunchy snacks that retain nearly all of the nutrients found in fresh fruit – no washing, peeling, or slicing required! Crispy Fruit is also a great way to introduce your kids to less-familiar flavors like cantaloupe and Asian Pear. Come try a sample at the Kids Food Festival this March 5 + 6 at Bryant Park, NYC!
From the Mouth of a Kid:

Crunchy fruit? That's so cool! And they're sweet!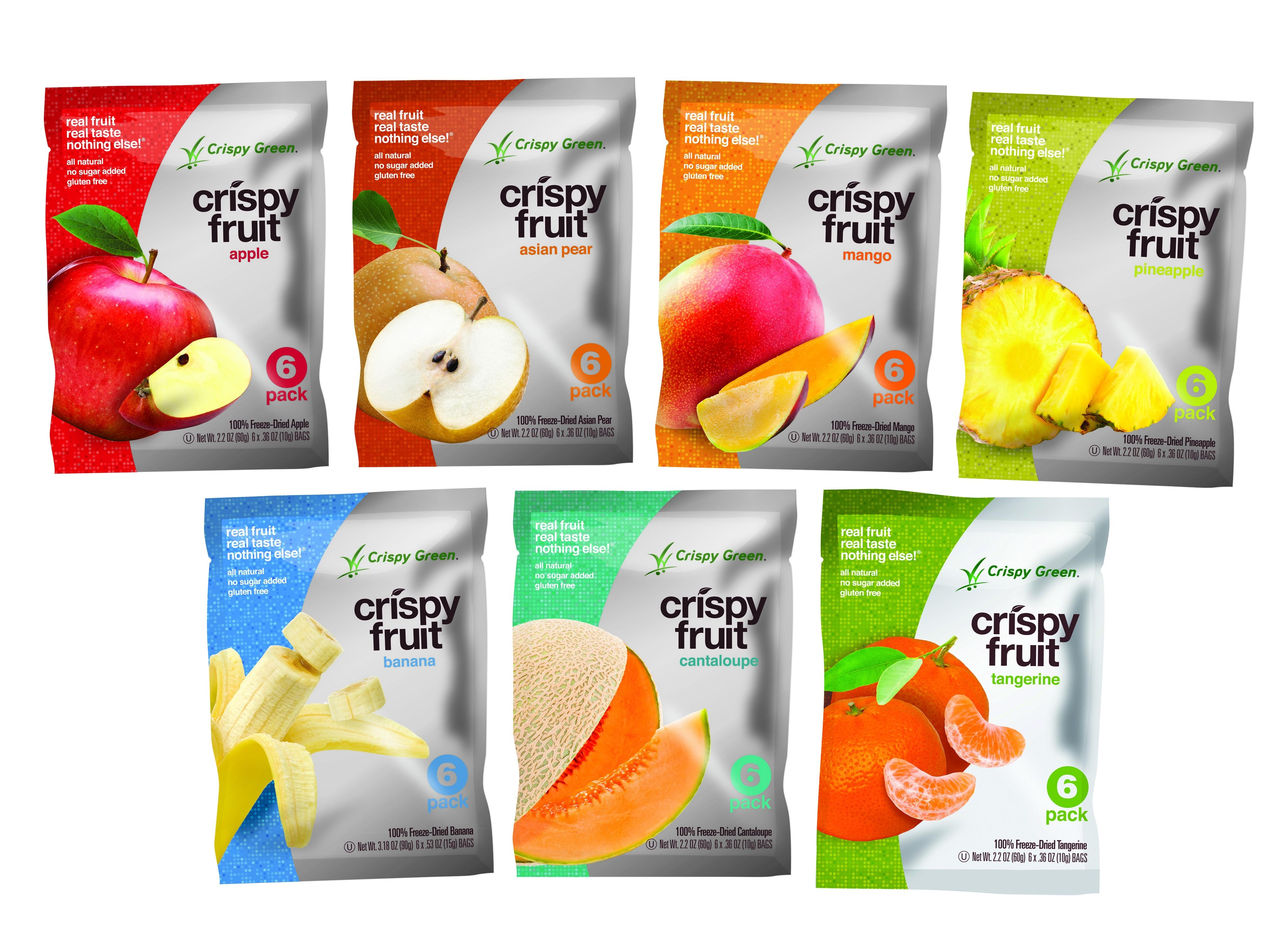 From the Eyes of a Parent:

While I love serving my family healthful fresh fruits, they can get messy on the go – plus they go bad if we don't eat them quickly enough. That's why I love Crispy Fruit freeze-dried snacks! I always keep a bag with me to satisfy my sweet-tooth, plus they help me make sure my kids get the 5-to-9 daily servings of fruits and veggies recommended by the USDA.

Flavorful Features:
Crispy Green makes a variety of Crispy Fruit:
• Crispy Apples
• Crispy Mangoes
• Crispy Asian Pears
• Crispy Bananas
• Crispy Cantaloupes
• Crispy Pineapples
• Crispy Tangerine
The Icing on the Cake:
Crispy Fruit snacks are, gluten-free, allergy-free, fat-free, cholesterol-free, non-GMO verified, Kosher certified, and have 55 calories or less per serving.

Time to Eat?!

Crispy Fruit snacks are great for lunch, snack time, afterschool, or even dessert.

Good to Go?

Crispy Fruit are individually wrapped in single-serving pouches for ultimate portability!

Mix it Up!
Add Crispy Green fruits to yogurt, trail mix, or cereal to add all-natural sweetness and crunch.

The Creative Kitchen™, LLC, teaches children about food and how to cook in a fun, safe, and educational manner. Targeting families with children ages two to teen, the company focuses on teaching, writing creative content and curriculum, special events, recipe development, spokesperson work, webisode production and consulting to present educational and entertaining content through food-related activities. The founder, Cricket Azima, is an expert in cooking for and with children. She inspires kids to express themselves creatively through food and cooking, while complementing lessons with traditional educational material such as social studies, math, arts, science, and more. Visit

www.thecreativekitchen.com

for more information.
Related posts