It can be tricky to find snacks that are easy to throw in a lunchbox or backpack at the last minute that will not only keep your kids happy, but deliver some delicious nutrition at the same time. Thankfully, there's brands like Crispy Green that know how to do both! Their freeze-dried Tangerine Slices are the perfect grab-and-go snack that will satisfy those of any age with a sweet tooth or those who, deep down, really just want some chips. This portable fruit makes it so easy to have a healthful snack when you're on the go. And, tangerine is perfect for orange Halloween! We love their minimal ingredients and perfect portion sizes, as well as Crispy Green's passion for inspiring others to live healthy, happy lives through eating high-quality, natural, and delicious food! 
From the Mouth of a Kid:
It's so crazy that this fruit is crunchy! I love it! 
From the Eyes of a Parent:
Who would have thought my kids would be begging me daily for fruit? They just love Crispy Green's Tangerine Slices, and so do I! Since each bag is individually portioned, they're perfect to add to their lunchboxes, or backpacks for an after-school snack. They have a 36-month shelf life so I keep a bunch in our car and pantry for emergencies when the kids get "hangry." I especially love that there's no added sugar, because each of my kids have a massive sweet tooth. And, it has nearly all of the nutritional value of fresh fruit kept intact. Finally, a snack I can feel great about giving to them!
Flavorful Features:
Here are the other freeze-dried fruits you can get from Crispy Green:
Apple

Strawberry

Banana

Mango

Pear

Pineapple

Cantaloupe
The Icing on the Cake:
Crispy Green Tangerine Slices are non-GMO, gluten-free, dairy-free, kosher, vegan, peanut-free and tree nut-free. Each serving provides 95% of the nutritional value of fresh fruit!
Time to Eat?!
We love this as an after-school or after-work snack for a yummy boost of nutrition to hold us over until dinnertime, but they're great as an addition to lunchtime, or even after dinner if you don't want a dessert that's full of sugar or artificial ingredients.
Good to Go?
These individually-packaged snacks are perfectly portioned! Not too much, not too little! Add them to lunchboxes, backpacks, or your purse for whenever you want a yummy treat.
Mix it Up!
Add some Crispy Green Tangerine Slices to your favorite high-fiber cereal for some extra sweetness and texture!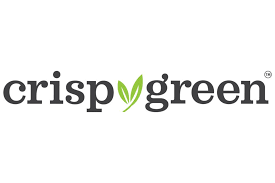 The Creative Kitchen™, LLC, teaches children about food and how to cook in a fun, safe, and educational manner. Targeting families with children ages two to teen, the company focuses on teaching, writing creative content and curriculum, special events, recipe development, spokesperson work, webisode production and consulting to present educational and entertaining content through food-related activities. The founder, Cricket Azima, is an expert in cooking for and with children. She inspires kids to express themselves creatively through food and cooking, while complementing lessons with traditional educational material such as social studies, math, arts, science, and more. Visit

www.thecreativekitchen.com

for more information.
Related posts