Tired of carrying apples that bruise in your bag and buying fresh berries that go bad too quickly? We know how you feel. That's why The Creative Kitchen loves Crunchies Freeze Dried Fruits! The secret to Crunchies' delicious, healthful snacks is their unique freeze drying process which uses a refrigerated, water-free vacuum. The result? Super-crunchy, nutrient-rich fruit snacks that make the perfect grab-and-go food. Crunchies all-natural, portable fruits are a snack you can feel good about serving to your whole family!
From the Mouth of a Kid:
Their crunch is awesome!

From the Eyes of a Parent:

I want my kids to get 5 servings of fruits and veggies each day, but my family is busy and fresh fruit can be messy to eat on the run – plus it goes bad if you don't eat it right away. Crunchies freeze-dried snacks are the perfect solution. My kids I especially love their strawberries and blueberries – they're even sweeter than fresh berries despite having no added sugar!
Flavorful Features:
Crunchies offers the following flavors:
• Raspberries
• Blueberries
• Grapes
• Cinnamon Apple
• Pineapple
• Strawberry
• Mixed Fruit
• Strawberry and Banana
The Icing on the Cake:
These fruit snacks are vegan, gluten-free, and non-GMO certified, and contain no added sweeteners. Crunchies brand sources their fruit directly from farmers they know and trust.
Time to Eat?!
Crunchies fruits make a great snack any time of day, or side to a sandwich at lunch time.

Good to Go?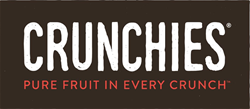 Yes! Each package of Crunchies is re-sealable for hassle-free snacking any time, anywhere.

Mix it Up!
Keep a bag of Crunchies in your cupboard for when you don't have fresh fruit available – these freeze-dried fruits are great to stir into cereal, yogurt, or oatmeal. You can even add handful to pancake batter or waffle batter!
The Creative Kitchen™, LLC, teaches children about food and how to cook in a fun, safe, and educational manner. Targeting families with children ages two to teen, the company focuses on teaching, writing creative content and curriculum, special events, recipe development, spokesperson work, webisode production and consulting to present educational and entertaining content through food-related activities. The founder, Cricket Azima, is an expert in cooking for and with children. She inspires kids to express themselves creatively through food and cooking, while complementing lessons with traditional educational material such as social studies, math, arts, science, and more. Visit

www.thecreativekitchen.com

for more information.
Related posts