Whether you're sensitive or allergic to gluten, or simply trying out a new way of eating, this Gluten-Free Multipurpose Flour from 2018 Kids Food Festival Supporting Sponsor Cup4Cup makes it easy (and delicious) to bake without gluten! You can substitute this flour cup for cup for whatever kind of flour your recipes call for…how easy is that? Cup4Cup gluten-free flour delivers exceptional taste and texture, and lets you and your family enjoy the foods you've always loved…but gluten-free!
From the Mouth of a Kid:
Yummy! Now Mommy can make me cookies, just like my brother and sister!
From the Eyes of a Parent:
Having a child who can't consume gluten was so hard until I discovered Cup4Cup's gluten-free flour. You can hardly taste the difference between their flour and all-purpose flour! Now I can bake cookies, cakes, pancakes, and more, while still maintaining the taste and texture of these foods made with all-purpose flour. This brand has been an absolute lifesaver for my family!
Flavorful Features:
Cup4Cup also makes a Gluten-Free Wholesome Flour, along with a number of baking mixes!
The Icing on the Cake:
Cup4Cup's Gluten-Free Multipurpose Flour is certified gluten-free and kosher, as well as made with non-GMO ingredients.
Time to Eat?!
Use Cup4Cup's Gluten-Free Multipurpose Flour any time you need to make a recipe gluten-free: cookies, cakes, gravy, scones, pasta, and more! Substitute Cup4Cup's flour cup for cup in your recipes…it's that easy!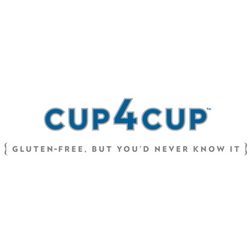 https://www.facebook.com/Cup4Cup/
The Creative Kitchen™, LLC, teaches children about food and how to cook in a fun, safe, and educational manner. Targeting families with children ages two to teen, the company focuses on teaching, writing creative content and curriculum, special events, recipe development, spokesperson work, webisode production and consulting to present educational and entertaining content through food-related activities. The founder, Cricket Azima, is an expert in cooking for and with children. She inspires kids to express themselves creatively through food and cooking, while complementing lessons with traditional educational material such as social studies, math, arts, science, and more. Visit

www.thecreativekitchen.com

for more information.
Related posts