DAGOBA Chocolate uses unexpected, naturally sourced ingredients to create unique products with exceptional taste. Their Orange Chocolate Bar with dark chocolate and orange zest delivers a bright citrus flavor that mixes with luscious dark chocolate to form chocolate perfection. This chocolate bar is gluten free and all of the ingredients are organic and responsibly sourced.
From the Mouth of a Kid: 
Wow! This chocolate also tastes like orange! This is a special yummy treat.
From the Eyes of a Parent:
This orange dark chocolate is a great post-meal sweet treat for my kids, and a great alternative to other sugar-laden desserts. My kids enjoy trying the unique flavors and discovering new ingredients and tastes. I feel good about choosing this brand because of its organic, thoughtfully sourced ingredients.
Flavorful Features:
There are many varieties of DAGOBA chocolate bars:
Xocolatl Dark Chocolate: rich dark chocolate, chilies & nibs – 74% cacao

Beaucoup Berries Dark Chocolate: Rich dark chocolate, cranberries, cherries & vanilla – 74% cacao

Eclipse Extra Dark Chocolate – 74% cacao

Lemon Ginger: Dark chocolate, lemon essence & crystallized ginger – 68% cacao

Lavender Blueberry Dark Chocolate: Dark chocolate, lavender essence & wild blueberries  – 59% cacao

Mint Chocolate: Dark chocolate, mint & rosemary essence – 59% cacao

Roseberry Dark Chocolate: Dark chocolate, raspberries & rosehips – 59% cacao

Semisweet Dark chocolate – 59% cacao

Chai Chocolate: Milk chocolate, crystallized ginger & chai essence – 37% cacao

Hazelnut Chocolate: Milk chocolate, toasted hazelnuts & rice crisps – 37% cacao

Milk Chocolate – 37% cacao
The Icing on the Cake:
Because DAGOBA chocolate sources its own cacao it can carefully monitor quality and flavor, while reducing its impact as well as benefit the communities that grow their ingredients.
Time to Eat?!
Any time you want to satisfy the kids' or your sweet tooth without going on sugar overload, try a small piece of any DAGOBA chocolate bar!
Good to Go?
DAGOBA Chocolate's Tasting Squares are the perfect sweet treat to bring on the go.
Mix it Up! 
Melt part or all of a chocolate bar and dip fruit, pretzels, or crackers into it.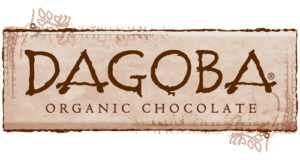 http://www.dagobachocolate.com/ 
https://www.facebook.com/DagobaOrganicChocolate/?fref=ts
The Creative Kitchen™, LLC, teaches children about food and how to cook in a fun, safe, and educational manner. Targeting families with children ages two to teen, the company focuses on teaching, writing creative content and curriculum, special events, recipe development, spokesperson work, webisode production and consulting to present educational and entertaining content through food-related activities. The founder, Cricket Azima, is an expert in cooking for and with children. She inspires kids to express themselves creatively through food and cooking, while complementing lessons with traditional educational material such as social studies, math, arts, science, and more. Visit

www.thecreativekitchen.com

for more information.
Related posts