What do you call a cheese that's not yours?… Nacho Cheese! Well luckily for you and your family, this cheese can be yours! As a well-respected and recognizable label in France and Europe, Emmi's cheeses are sure not to disappoint and are a great staple to have in your family's fridge. From quality to taste, Emmi's Emmentaler 

is a real crowd pleaser bound to be enjoyed by all members of your family. It's the perfect addition to omelets, sandwiches, or simply eaten on its own!
From the Mouth of a Kid:
"Cheese and crackers is my favorite snack!"
 
From the Eyes of a Parent:
"Not only do I trust the mission behind Emmi products, I love how versatile this cheese is. It's great to cut into cubes and put into my kids' lunchboxes for a calcium-packed snack! My also kids love it in their sandwiches, and its always the first to go with my friends at a party. Also… between us adults, the Emmentaler goes great with mom's white grape juice, too." 😉
Flavorful Features:
Try these other delicious cheeses from Emmi:
Alter Schweizer

Appenzeller

Don Olivo

Füürt

ü

fel

Kaltbach

Maître Moutardier

Raclette

Tete de Moine AOP

Le Gruyere

Switzerland Swiss

Fondue

Der Scharfe Maxx
The Icing on the Cake:
Carefully crafted in the Alpine Valley of Switzerland, Emmi stays true to tradition. Since the early 1900s, they've been perfecting the art of cheese making. GMO feed is strictly prohibited and animal welfare is no joke for these farmers. With Emmi, you can expect nothing less than the freshest ingredients for you and your family.
Mix it Up!
Picky eaters? Sprinkle some of this cheese over vegetables and watch your kids gobble them up!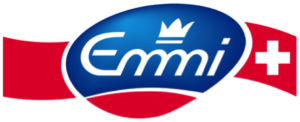 https://www.facebook.com/EmmiUSA/
The Creative Kitchen™, LLC, teaches children about food and how to cook in a fun, safe, and educational manner. Targeting families with children ages two to teen, the company focuses on teaching, writing creative content and curriculum, special events, recipe development, spokesperson work, webisode production and consulting to present educational and entertaining content through food-related activities. The founder, Cricket Azima, is an expert in cooking for and with children. She inspires kids to express themselves creatively through food and cooking, while complementing lessons with traditional educational material such as social studies, math, arts, science, and more. Visit

www.thecreativekitchen.com

for more information.
Related posts