Snickerdoodles as good as grandma used to make…except this version is adapted for all of the current dietary considerations! Enjoy Life's Soft Baked Snickerdoodle Cookies taste chewy and cinnamon-sugary sweet, like homemade, while free of gluten, peanut, soy, casein, potato, wheat, tree nut, fish, sesame, dairy, egg, shellfish, and sulfites. Allergy-friendly, these cookies can be shared safely in classrooms, playdates, and parties!
From the Mouth of a Kid:
These cookies are so soft and sweet – they taste like cake!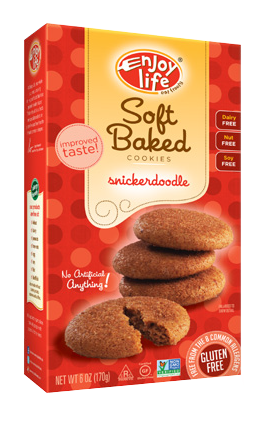 From the Eyes of a Parent:
It was always hard finding a sweet treat for my daughter's classroom parties. Enjoy Life makes it easy – and delicious! Kids and teachers both are excited whenever I send these cookies into school.
Flavorful Features:
Give these flavors a try as well:
Chocolate Chip

Double Chocolate Brownie

Gingerbread Spice

Soft Baked Cookies Club Pack
The Icing on the Cake:
Free of gluten, peanut, soy, casein, potato, wheat, tree nut, fish, sesame, dairy, egg, shellfish, and sulfites! It is the perfect allergy-friendly snack to share with a whole class or party – inclusive of all!
Time to Eat?!
Enjoy these cookies as an after-school treat on a special day or for dessert!
Good to Go?
The individual packaging of the Enjoy Life cookies makes it easy to pop one in your children's lunch box or backpack…or into mom or dad's workbag!
Mix it Up!
Spread some of your favorite frozen yogurt between two Enjoy Life Soft Baked Snickerdoodle Cookies and enjoy a delicious ice cream sandwich. We like putting caramel or pumpkin spice yogurt in ours!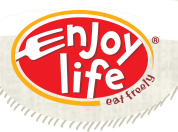 https://www.facebook.com/enjoylifefoods
The Creative Kitchen™, LLC, teaches children about food and how to cook in a fun, safe, and educational manner. Targeting families with children ages two to teen, the company focuses on teaching, writing creative content and curriculum, special events, recipe development, spokesperson work, webisode production and consulting to present educational and entertaining content through food-related activities. The founder, Cricket Azima, is an expert in cooking for and with children. She inspires kids to express themselves creatively through food and cooking, while complementing lessons with traditional educational material such as social studies, math, arts, science, and more. Visit

www.thecreativekitchen.com

for more information.
Related posts