Looking to put a healthier spin on family favorites like sandwiches, burgers, wraps, and pizza? Flatout Bread offers dozens of higher-protein, lower-carb, fiber-full bread products that are flat-out delicious! From crispy pizza crusts to wholesome wraps, Flatout breads provide endless options for breakfast, lunch, and dinner. They even offer gluten-free flatbreads! Be sure to check them out at the Kids Food Festival March 5th and 6th at Bryant Park, NYC!
From the Mouth of a Kid:
I love when my mom makes thin crust pizzas!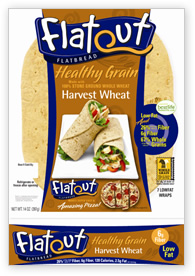 From the Eyes of a Parent:
Flatout Bread's wraps, crusts, and flatbreads keep my pantry stocked with versatile, better-for-you bread options for any time of day. When I need a quick, low-carb lunch, I'll spread hummus on a Light Garden Spinach flatbread and top with veggies. My kids especially love when I make PB&J breakfast roll-ups, and I love knowing they're getting an extra protein and fiber boost in the morning.
Flavorful Features:
Flatout offers a wide variety of products including:
• Light Flatbreads
• Healthy Grain Flatbreads
• ProteinUp Carb Down Flatbreads
• Gluten Free Flatbread
• Foldit Artisan Flatbreads
• HungryGirl Foldit Flatbreads
• Artisan Thin Pizza Crust
• Pinwheel Lavash Flatbread
• Traditional Flatbreads
The Icing on the Cake:
Flatout Bread boasts a number of low-calorie, low-carb, and vegan and gluten-free options.

Time to Eat?!
Flatout Breads are a blank canvas you can use to make creative meals any time of day. The possibilities are endless!
Good to Go?

Flatout's wraps and flatbreads are perfect for making portable sandwiches for lunch on-the-go.

Mix it Up!
Slice the flat bread into long thin strips, coat in oil and herbs, and bake on a wire rack until crispy. These seasoned crispy strips can add a perfect crunch to salad or a warm cup of soup. Check out Flatout's website for tons of quick, easy recipes!
The Creative Kitchen™, LLC, teaches children about food and how to cook in a fun, safe, and educational manner. Targeting families with children ages two to teen, the company focuses on teaching, writing creative content and curriculum, special events, recipe development, spokesperson work, webisode production and consulting to present educational and entertaining content through food-related activities. The founder, Cricket Azima, is an expert in cooking for and with children. She inspires kids to express themselves creatively through food and cooking, while complementing lessons with traditional educational material such as social studies, math, arts, science, and more. Visit

www.thecreativekitchen.com

for more information.
Related posts