We love when we find interesting snacks that bring a little variety to our day (and taste buds)! If you do too, check out From The Ground Up's Butternut Squash Pretzels, a familiar snack with a plant-based twist. Your whole family will love the blend of sweet and savory flavors, kids and adults alike! These pretzels are made from a blend of nutritious veggies, including butternut squash, pumpkin, cauliflower, carrot, spinach, broccoli, and more! They're also gluten-free, vegan, Kosher, and non-GMO. From The Ground Up believes in making snacks that taste good but still deliver those essential nutrients your kids need – what more could you ask for from a snack?
From the Mouth of a Kid:
These pretzels are kind of sweet!
From the Eyes of a Parent:
My entire family goes crazy for these Butternut Squash Pretzels! They're the same, yummy snack we rely on for an after-school pick-me-up, but with the added of bonus of being made with lots of nutritious veggies. My kids don't even notice the added vegetables – they just like the crunch and great flavor! I love that they're low in sugar because our kids love sweet treats, so it can be a struggle to satisfy their cravings with something that's not full of sugar. The fact that they're gluten-free and vegan makes it an easy snack to pack in their lunchboxes and bring to school to share with their friends, some of whom have food allergies. These are now a staple in our pantry – my wife and I love them just as much as the kids do!
Flavorful Features:
From the Ground Up makes other delicious snacks that your family is sure to love:
The Icing on the Cake:
If you have a picky eater who doesn't love eating their veggies, From the Ground Up's Butternut Squash Pretzels are a great way to help. They boast the same, familiar look and feel of pretzels, but with a yummy sweet and salty flavor and added nutrients from the veggies.
Time to Eat?!
Grab a handful of these butternut squash pretzels when you want to balance out a meal with some vegetables, or just add an extra nutritious punch to an already veggie-packed meal. 
Good to Go?
Throw some pretzels into a baggie or to-go container to add some crunch to your child's lunchbox!
Mix it Up!
These pretzels are a great substitute for croutons in your favorite salad!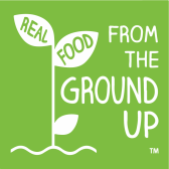 www.facebook.com/FromTheGroundUpSnacks
The Creative Kitchen™, LLC, teaches children about food and how to cook in a fun, safe, and educational manner. Targeting families with children ages two to teen, the company focuses on teaching, writing creative content and curriculum, special events, recipe development, spokesperson work, webisode production and consulting to present educational and entertaining content through food-related activities. The founder, Cricket Azima, is an expert in cooking for and with children. She inspires kids to express themselves creatively through food and cooking, while complementing lessons with traditional educational material such as social studies, math, arts, science, and more. Visit

www.thecreativekitchen.com

for more information.
Related posts