At The Creative Kitchen, we love to support products created by mom-trepreneurs – especially when they're as fun and tasty as Froose 100% All Natural Fruit Flavored Gummies! These sweet snacks were developed by Denise Devine, food industry executive and "mom inventor," with kids' nutrition in mind, and contain no artificial flavors, colors, or preservatives. Froose 100% All Natural Fruit Flavored Gummies are made with real fruits and contain 6 grams of fiber to aid digestion and keep kids feeling fuller between meals. And even better? They contain the natural sugar-to-fiber ratio found in fresh fruit and have a low glycemic index to prevent blood sugar from spiking – so your kids can enjoy this sweet treat without the sugar rush (or the inevitable crash).
From the Mouth of a Kid: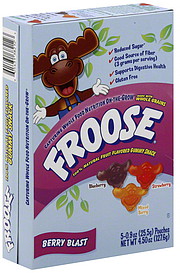 Yum, these gummies taste like my favorite fruits!
From the Eyes of a Parent:
My kids love gummies, so when they're craving something sweet, I reach for Froose 100% All Natural Fruit Flavored Gummies. They have 25% less sugar than the average fruit snack, plus added fiber and whole grains. It feels great knowing my kids can enjoy this fun grab-and-go snack and it's good for them, too!

Flavorful Features:
Froose All Natural Fruit Flavor Gummies come in the following flavors:
• Assorted Fruit
• Berry Blast
• Tropical Blend
The Icing on the Cake: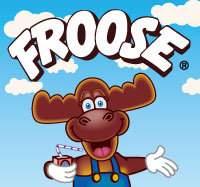 Froose All Natural Fruit Flavored Gummy Snacks, gluten-free, allergen-free, kosher, and vegan.
Time to Eat?!
Snack time, dessert, or as part of a balanced lunch.
Good to Go?

Yes! The gummies are sealed in individual packs that can be tossed in a back back, purse, or lunch bag for convenient snacking on the go.
The Creative Kitchen™, LLC, teaches children about food and how to cook in a fun, safe, and educational manner. Targeting families with children ages two to teen, the company focuses on teaching, writing creative content and curriculum, special events, recipe development, spokesperson work, webisode production and consulting to present educational and entertaining content through food-related activities. The founder, Cricket Azima, is an expert in cooking for and with children. She inspires kids to express themselves creatively through food and cooking, while complementing lessons with traditional educational material such as social studies, math, arts, science, and more. Visit

www.thecreativekitchen.com

for more information.
Related posts