Who doesn't love a light and savory on-the-go snack? That's perfect for lunchboxes? And packed with vitamins and minerals? Sign us up! gimMe Snacks' Roasted Seaweed Snacks are crunchy, savory, and roasted to light and crispy perfection! They come in many different flavor combinations so everyone in the family can get what they prefer. Kids just love this roasted seaweed snack, which is great because it's so good for them! It contains vitamins and minerals, heart-healthy Omega-3s, and even helps to improve brain function and thyroid health! The entire gimMe product line is made with premium USDA Certified organic and Non-GMO Project Verified seaweed sustainably cultivated and harvested in South Korea. We love gimMe's use of super clean ingredients, as well as their belief in using real, high-quality ingredients that help to keep our diets and our environment clean.
From the Mouth of a Kid:
My favorite is the teriyaki flavor!
From the Eyes of a Parent:
I was a bit skeptical of seaweed before trying gimME Snacks' Roasted Seaweed Snacks, but now I'm hooked, and so are my kids! I'm so happy we have a savory snack that they now ask for over and over again, rather than the sugary treats they usually beg for. The clean ingredients are just amazing, and who knew seaweed was such a superfood? I'm so grateful for the vitamins and minerals in it that can sometimes be tricky to incorporate into my kids' diets, when they turn their noses up at fruits and vegetables so often. I always have these in my pantry (and my car!), and the single serving packages make it incredibly easy to throw into lunchboxes and backpacks for my kids.
Flavorful Features:
gimMe's Roasted Seaweed Snacks come in these yummy flavors:
Sea Salt

Avocado Oil

Teriyaki

Extra Virgin Olive Oil

Toasted Sesame

Wasabi
The Icing on the Cake:
This snack is chock-full of vitamins and minerals, such as vitamins A, C, B-12, and iodine. It's also gluten-free, USDA Certified organic, and only 25 calories per serving. 
Time to Eat?!
Lunch, dinner, mid-morning, after-school, even midnight! You name it, and it's a good time to eat gimMe's Roasted Seaweed Snacks.
Good to Go?
These were MADE for taking with you on-the-go. Individually-portioned packages are great for lunchboxes, backpacks, purses, even your snack box in the car for emergency snacking!
Mix it Up!
Crunch up some of these seaweed snacks and add to your favorite salad or pasta dish for some extra flavor and texture! Crrrrrrunch!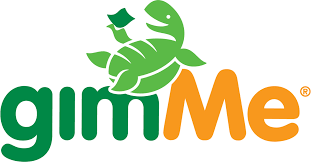 The Creative Kitchen™, LLC, teaches children about food and how to cook in a fun, safe, and educational manner. Targeting families with children ages two to teen, the company focuses on teaching, writing creative content and curriculum, special events, recipe development, spokesperson work, webisode production and consulting to present educational and entertaining content through food-related activities. The founder, Cricket Azima, is an expert in cooking for and with children. She inspires kids to express themselves creatively through food and cooking, while complementing lessons with traditional educational material such as social studies, math, arts, science, and more. Visit

www.thecreativekitchen.com

for more information.
Related posts