Glee Gum will have your whole family saying "YUM!" With 9 tasty flavors – all made without aspartame or Phenylalanine – Glee Gum has a flavor for everyone! Glee Gum also contains chicle, a rubbery sap that is sustainably harvested from trees in the rain forests of Central America. Before the invention of synthetic gum bases, all chewing gum was made from this unique and fascinating ingredient. Glee is one of the few gum manufacturers still committed to using chicle and all-natural sweeteners in their products – and The Creative Kitchen loves them for it!
From the Mouth of a Kid:
It's so much fun to blow bubbles!
From the Eyes of a Parent: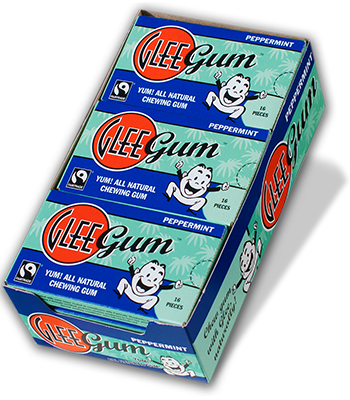 I feel good knowing Glee Gum is eco-friendly and contains no artificial sweeteners. My kids really love the fruity flavors, and I especially like the refreshing Peppermint and Spearmint flavors after meals.
Flavorful Features:
Glee Gum is available in the following flavors:
Bubblegum
Cinnamon
Peppermint
Spearmint
Sugar-free fresh mint
Sugar-free lemon lime
Sugar-free wild watermelon
Tangerine
Triple berry

The Icing on the Cake:
Glee Gum contains no artificial colors, flavors, or sweeteners. It is aspartame-free, non-GMO verified, gluten free, and Feingold diet accepted.
Sugar-free Glee Gum is sweetened with 100% percent xylitol, which may be beneficial to dental health. Classic Glee Gum gets its flavor from Fair Trade sugar and brown rice syrup and contains no phenylalanine. Made from
ethically-sourced chicle instead of synthetic ingredients, it is the world's first Fair Trade gum!
Time to Eat?!
Anytime you are craving a piece of gum! Great for freshening your breath or cleansing your palate after a meal.
Good to Go?
Yes! The package can fit into a purse, backpack, or other carry bag.
The Creative Kitchen™, LLC, teaches children about food and how to cook in a fun, safe, and educational manner. Targeting families with children ages two to teen, the company focuses on teaching, writing creative content and curriculum, special events, recipe development, spokesperson work, webisode production and consulting to present educational and entertaining content through food-related activities. The founder, Cricket Azima, is an expert in cooking for and with children. She inspires kids to express themselves creatively through food and cooking, while complementing lessons with traditional educational material such as social studies, math, arts, science, and more. Visit

www.thecreativekitchen.com

for more information.
Related posts