Struggling to find a good milk alternative for a child who is nut-free, soy-free, and/or dairy-free? Good Karma has a new solution out on the market: flaxmilk. Their new Unsweetened Vanilla Flaxmilk + Protein flavor has the same amount of protein per serving as dairy milk and has less calories and more nutrients per serving! Here at The Creative Kitchen we cannot get enough of this product!
From the Mouth of a Kid:
I can't wait to finish my cereal in the morning! I just want to get to the milk so bad!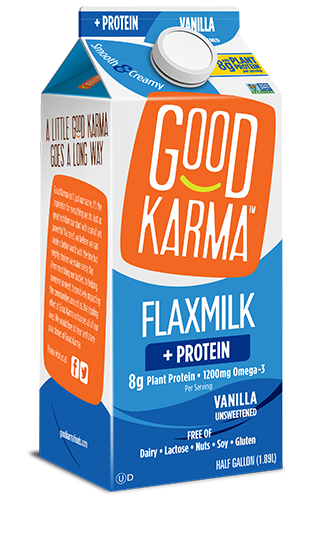 From the Eyes of a Parent:
Good Karma Unsweetened Vanilla + Protein Flaxmilk is a go-to for me and my family in the morning! It's a great non-dairy alternative for children with a nut or soy allergy and I do not have to make up for protein in other parts of their diet! Also, flaxmilk is rich in omega-3 which is great because it is essential to our health and it is not produced by our bodies. This product is especially great for pregnant moms since omega-3's play a role in early development.
Flavorful Features:
Good Karma has many different options and flavors for their flaxmilk:
Lunchbox Cartons (great for back to school season)
These milks can be found in flavors ranging from vanilla (with various levels of sweetener), original flavor, and chocolate! So there is at least one option that will work perfectly for every family!
The Icing on the Cake:
Benefits to switching to Good Karma Unsweetened Vanilla Flaxmilk + Protein includes:
Free of nuts, soy, and dairy

Every 1 cup serving includes: 8 grams of plant based protein and as much calcium and vitamin D as dairy milk
Time to Eat?!
Great for breakfast and also to pack away for lunch!
Mix it Up!
Good Karma Unsweetened Vanilla + Protein Flaxmilk is great to add into overnight oats! This will cut back sugar and increase the protein content than what is usually provided in a packet of instant oatmeal. Additionally, preparing breakfast the night before will save mom time in the morning, and overnight oats can be customized for each child so even our picky eaters will wake up to a meal that they are excited about! Check out Good Karma's recipe for delicious Banana Sunflower Butter Overnight Oats here!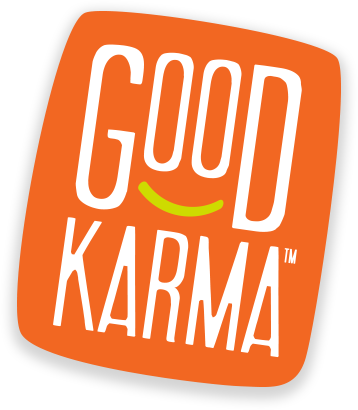 www.facebook.com/goodkarmafoods
The Creative Kitchen™, LLC, teaches children about food and how to cook in a fun, safe, and educational manner. Targeting families with children ages two to teen, the company focuses on teaching, writing creative content and curriculum, special events, recipe development, spokesperson work, webisode production and consulting to present educational and entertaining content through food-related activities. The founder, Cricket Azima, is an expert in cooking for and with children. She inspires kids to express themselves creatively through food and cooking, while complementing lessons with traditional educational material such as social studies, math, arts, science, and more. Visit

www.thecreativekitchen.com

for more information.
Related posts