Happy Baby Whole Milk Yogurt

from

 Happy Family comes in the perfect size for little tummies! This yogurt is naturally sweetened with organic fruit and veggie purees – no added sweeteners here! It's also full of probiotics to help support the good bacteria in your baby's belly, as well as vitamin D and calcium, to help grow strong, healthy bones. With a variety of flavors, there's a choice here for everyone!
From the Mouth of a Kid:
goo goo ga ga!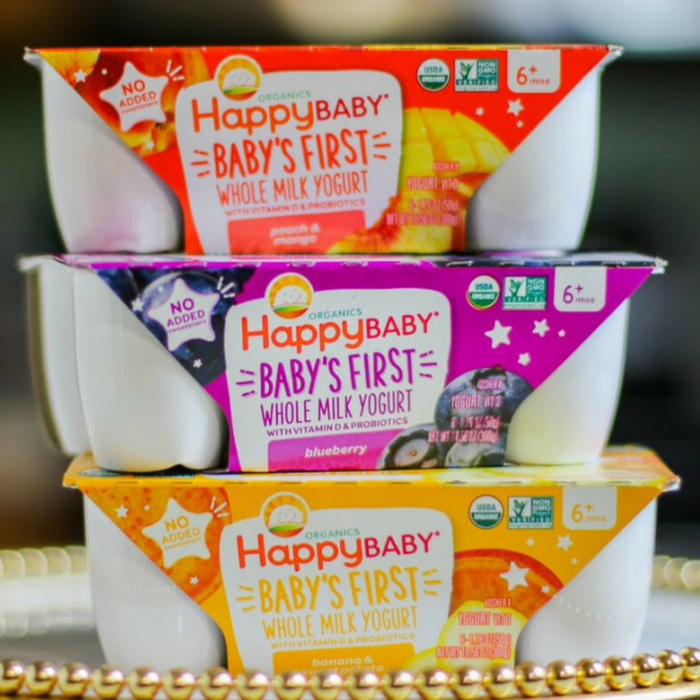 From the Eyes of a Parent:
This whole milk yogurt from Happy Family is a lifesaver. My baby loves the taste of it, and it has everything she needs at this stage. I feel safe knowing that there are no added sweeteners; instead, the probiotics and essential nutrients help my baby stay healthy, which makes me happy.
Flavorful Features:
Try Happy Family's other great flavors of their whole milk yogurt for babies:
Blueberry
Banana and sweet potato
Peach and mango
Plain
The Icing on the Cake:
Happy Family's whole milk yogurt is certified USDA organic, non-GMO verified, kosher, full of probiotics, and a good source of calcium and vitamin D, with no added sweeteners.
Time to Eat?!
This yogurt is great for a snack anytime of day!
Good to Go?
Happy Baby Whole Milk Yogurts from Happy Family are great to pack with you when taking your baby for a walk in the stroller to the park. Don't forget a spoon!

https://www.happyfamilybrands.com
https://www.facebook.com/HappyFamily
The Creative Kitchen™, LLC, teaches children about food and how to cook in a fun, safe, and educational manner. Targeting families with children ages two to teen, the company focuses on teaching, writing creative content and curriculum, special events, recipe development, spokesperson work, webisode production and consulting to present educational and entertaining content through food-related activities. The founder, Cricket Azima, is an expert in cooking for and with children. She inspires kids to express themselves creatively through food and cooking, while complementing lessons with traditional educational material such as social studies, math, arts, science, and more. Visit

www.thecreativekitchen.com

for more information.
Related posts