Hydrate your family with Harmless Harvest Coconut Water AND get their bellies filled with good bugs via the new Harmless Coconut Probiotics. Your body AND your conscience will feel great with Harmless Harvest beverages! Not only do the products taste delicious – they also boast a zero-waste ingredient model!
From the Mouth of a Kid:
It's so cool that this water tastes like coconut and is PINK!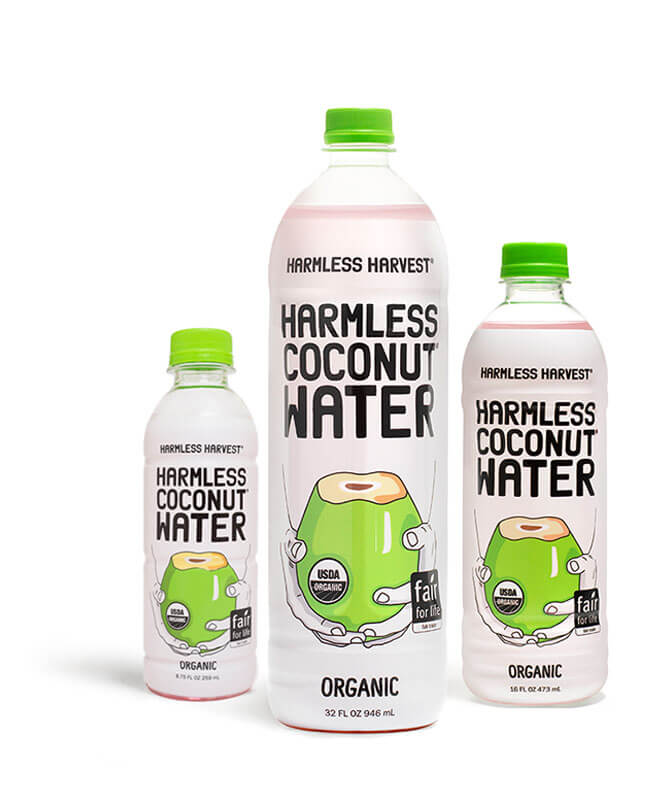 From the Eyes of a Parent:
Harmless Harvest Coconut Water makes THE perfect drink to have stocked in the fridge for my whole family to enjoy! My husband and I really enjoy the refreshing coconut water overall – and my kids enjoy the flavored beverage as a juice or soft drink alternative. We also use it as an after-sport (or being sick) electrolyte-filled hydrator! And, the new Harmless Coconut Probiotics are a delicious and helpful way to start our days, keeping our systems balanced and our guts healthy!
Flavorful Features:
Harmless Harvest products include:
Harmless Harvest Coconut Water

Harmless Coconut Probiotics (flavors include: Original; Strawberries, Blueberries, & Acai; Mangos & Acerolas)

Harmless Coconut Water Coffee
The Icing on the Cake:
Not only do Harmless Harvest products taste absolutely outstanding, but the company's business model deserves a round of applause, too! Harmless Harvest produces the first-ever organic coconut water that is Fair for Life Certified, with an environmentally sustainable model with fair wages, healthcare, and well-being insurance for every farmer and employee!
Time to Eat?!
Hydrating and delicious anytime of the day or evening!
Good to Go?
Resealable bottles make the individual servings easy to take on the go!
Mix it Up!
Use the Harmless Coconut Probiotics in place of milk in your favorite smoothie recipe!
http://www.harmlessharvest.com/
https://www.facebook.com/harmlessharvest/

The Creative Kitchen™, LLC, teaches children about food and how to cook in a fun, safe, and educational manner. Targeting families with children ages two to teen, the company focuses on teaching, writing creative content and curriculum, special events, recipe development, spokesperson work, webisode production and consulting to present educational and entertaining content through food-related activities. The founder, Cricket Azima, is an expert in cooking for and with children. She inspires kids to express themselves creatively through food and cooking, while complementing lessons with traditional educational material such as social studies, math, arts, science, and more. Visit

www.thecreativekitchen.com

for more information.
Related posts