With so many gummy vitamins on the market, it can be a bit overwhelming to decide which one is right for your child. As the first ever gummy vitamin for children,

Hero Nutritionals' Yummi Bears

, are a great tasting way to make sure your kids are getting all of the necessary vitamins and minerals they need to help them grow! Their gummies are made with natural fruit flavors and are free of allergens, gluten, and dairy – so their safe for all your kids' healthy growth and development. That's why we're energizing our campers with Hero Nutritionals' Yummi Bears at

The Creative Kitchen's Cooking Camp

for Kids this summer at Whole Food Market Bowery! Cook up some summer fun with us and sign up here!
From the Mouth of a Kid:
Mom says these gummy bears are good for me! Sure tastes like candy!
From the Eyes of a Parent:

Hero Nutritionals Yummi Bears are a great supplement to my kids' diets. There are so many great essential nutrients in these vitamins that help my kids as they continue to grow. I'm so happy to learn they make adult versions, too!
Flavorful Features: 
Hero Nutritionals' Yummi Bears come in a variety formulas to support your child's nutritional needs:
• Multi-Vitamin & Mineral
• Immunity Health
• Vitamin C
• Fiber
• Wholefood + Antioxidants
• Omega 3 with Chia
• Echinacea + Vitamin C & Zinc
• Vitamin D3

The Icing on the Cake:

Many of Hero Nutritionals gummy vitamins are vegetarian! They are also free of yeast, wheat, milk, eggs, soy, gluten, salt, peanuts, tree nuts, shellfish, artificial colors or flavors, salicylates, or artificial preservatives and made in America!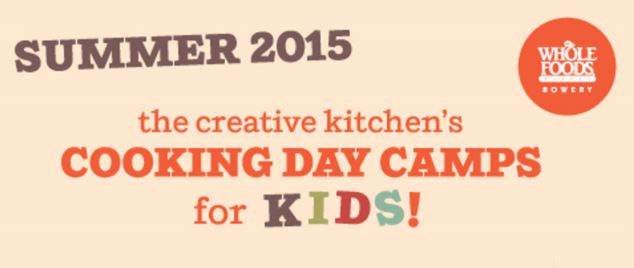 The Creative Kitchen™, LLC, teaches children about food and how to cook in a fun, safe, and educational manner. Targeting families with children ages two to teen, the company focuses on teaching, writing creative content and curriculum, special events, recipe development, spokesperson work, webisode production and consulting to present educational and entertaining content through food-related activities. The founder, Cricket Azima, is an expert in cooking for and with children. She inspires kids to express themselves creatively through food and cooking, while complementing lessons with traditional educational material such as social studies, math, arts, science, and more. Visit

www.thecreativekitchen.com

for more information.
Related posts