Here at The Creative Kitchen, we understand how difficult it can be to find the right products for children with sensitive stomachs. Luckily, our friends at

Kabrita USA also understand this struggle and have created a goat's milk formula known for its easy digestive properties. Those who have trouble digesting cow's milk will love this delicious alternative – no more upset tummies! Wondering why goat's milk is so much easier to digest than cow's milk? It has to do with the amount of short- and medium-chain fatty acids in the milk fat (goat's milk has more than cow's milk!), and the protein in goat's milk forms a smaller curd in your stomach, which is naturally easier to digest than cow's milk protein. And even better, 
Kabrita uses high-quality goat's milk made without antibiotics, growth hormones, or pesticides! Your kids will love the smooth, sweet taste, and
The Creative Kitchen is excited to feature Kabrita Goat Milk Formulas in our Whole Foods Market cooking class on Wednesday, February 13th! Learn more at www.thecreativekitchen.com/calendar.
From the Eyes of a Parent:
Kabrita has been a game-changer for our family since we first discovered it. My daughter was experiencing a number of uncomfortable side effects from our usual cow's milk formula, but fortunately all of them disappeared once we switched to Kabrita's goat's milk formula, and her little digestive system has been happy and healthy ever since. Not only does this formula not bother her stomach, but it's also non-GMO and made without antibiotics or pesticides, which makes me feel good! She loves the taste of it too; it's a win-win for our whole family!
Flavorful Features:
Kabrita has a mild, sweet and fresh taste; making it great to enjoy on its own, or as a cow milk replacement in your favorite dips and desserts!
The Icing on the Cake:
Kabrita products have many wonderful qualities:
Non-GMO

5 grams of protein per cup (8 oz.)

Naturally fortified with 22 vitamins and minerals including Vitamin D, B12, iron, and folic acid

Free from growth hormones, antibiotics, pesticides, and heavy metals

Certified glyphosate pesticide free

*This product is NOT appropriate for children with a confirmed cow milk protein allergy*
Time to Eat?!
Kabrita goat's milk formula is a great substitute for any time you would use cow's milk!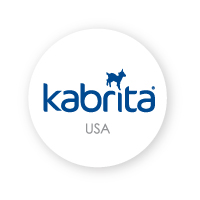 www.kabritausa.com/product-category/formula
The Creative Kitchen™, LLC, teaches children about food and how to cook in a fun, safe, and educational manner. Targeting families with children ages two to teen, the company focuses on teaching, writing creative content and curriculum, special events, recipe development, spokesperson work, webisode production and consulting to present educational and entertaining content through food-related activities. The founder, Cricket Azima, is an expert in cooking for and with children. She inspires kids to express themselves creatively through food and cooking, while complementing lessons with traditional educational material such as social studies, math, arts, science, and more. Visit

www.thecreativekitchen.com

for more information.
Related posts