Does the phrase "Got Milk?" give you tummy trouble? Try easily digestible goat milk! Kabrita Goat Milk Yogurt and Fruit pouches combine sweet, mild-tasting goat milk yogurt with real fruit purees for a delicious, nutritious snack perfect for people with or without cow's milk sensitivities. These portable, protein-packed pouches are a great way to keep kids energized during hectic school days and help them refuel after sports practice. Plus, they're all-natural, have no added sugar, and come in fun squeezable pouches! Come try a sample at the Kids Food Festival this March 5 + 6 at Bryant Park, NYC!
From the Mouth of a Kid:

This yogurt is so yummy and fun to squeeze!

From the Eyes of a Parent:
Kabrita Goat Milk Yogurt and Fruit is a healthful snack everyone in my family can enjoy at home or on-the-go. I like that goat's milk is easier on our stomachs and is packed with essential Vitamins and protein my kids need. Kabrita's pouches also have a twelve-month shelf life when unopened, so they're great to keep in the pantry for snacking any time of day.

Flavorful Features:
Kabrita Goat Milk Yogurt and Fruit Pouches come in three flavors:
• Mixed Berry
• Banana and Natural Vanilla Bean
• Mango Peach

The Icing on the Cake:
Goat milk may help reduce eczema, congestion and digestive issues. Kabrita Goat Milk Yogurt & Fruit has no added sugar and is a great source of protein and Vitamins C, D, and E. It is Non-GMO verified and comes in BPA-free packaging. Kabrita is committed to sourcing its milk from humanely-raised goats not treated with antibiotics.

Time to Eat?!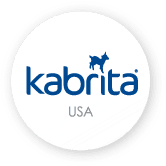 Enjoy Kabrita Goat Milk Yogurt and Fruit for breakfast, as part of a balanced lunch, or as a nutrient-rich snack.

Good to Go?

Yes! Kabrita comes in re-sealable pouches—the perfect size to fit in a lunch box or purse!
Mix it Up!
Use Kabrita Goat Milk Yogurt and Fruit to make a parfait with crunchy granola and a dollop of whipped cream.
The Creative Kitchen™, LLC, teaches children about food and how to cook in a fun, safe, and educational manner. Targeting families with children ages two to teen, the company focuses on teaching, writing creative content and curriculum, special events, recipe development, spokesperson work, webisode production and consulting to present educational and entertaining content through food-related activities. The founder, Cricket Azima, is an expert in cooking for and with children. She inspires kids to express themselves creatively through food and cooking, while complementing lessons with traditional educational material such as social studies, math, arts, science, and more. Visit

www.thecreativekitchen.com

for more information.
Related posts