You've likely herd of grass-fed beef, but have you heard of grass-fed butter? Kerrygold Pure Irish Butter is made from the milk of cows who spend 10 out of 12 months each year grazing in Irish pastures, and the difference is in the taste: rich and creamy with just the right amount of sweetness. While cooking with Kerrygold butter can enhance the flavor of any sweet or savory dish, be sure to try it on a simple slice of bread or cracker to get the full experience. Your kids are sure to love a slice of healthful, whole grain bread with Kerrygold on top!

From the Mouth of a Kid:
This butter is the best! Makes my bread taste extra yummy and sweet.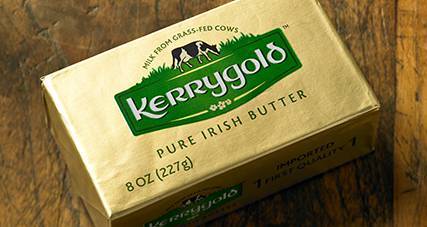 From the Eyes of a Parent:
Kerrygold butter is richer, sweeter, and creamier than many other brands on the market. It's perfect for any recipe that calls for butter, and my kids agree that cookies made with Kerrygold are the best! While it's great for cooking and baking, it's also a great way to get my kids to eat their fiber and whole grains– I just slather some Kerrygold on a slice of whole grain bread and they can't get enough.

Flavorful Features:
Kerrygold butter is available in salted, unsalted, reduced fat, garlic & herb, and butter with canola oil.
The Icing on the Cake:
Kerrygold sources their milk from small, family farms that do not treat their cows with hormones or antibiotics. Grass-fed butter has been shown to contain more omega-3's, beta-carotene, Vitamin A, Vitamin K, and Vitamin D than traditional butter.

Time to Eat?!
Any time you use your traditional butter. Kerrygold Pure Irish Butter is especially delicious on toast in the morning or a slice of whole grain bread with dinner.

Check out these family-friendly recipes featuring Kerrygold products!
Cheese and Tomato Macaroni with Broccoli
Apple Cinnamon Oatmeal Breakfast Cookies
The Creative Kitchen™, LLC, teaches children about food and how to cook in a fun, safe, and educational manner. Targeting families with children ages two to teen, the company focuses on teaching, writing creative content and curriculum, special events, recipe development, spokesperson work, webisode production and consulting to present educational and entertaining content through food-related activities. The founder, Cricket Azima, is an expert in cooking for and with children. She inspires kids to express themselves creatively through food and cooking, while complementing lessons with traditional educational material such as social studies, math, arts, science, and more. Visit

www.thecreativekitchen.com

for more information.
Related posts