Looking for a delicious, healthful finishing touch to your morning bagel? Kite Hill is here to save the day with their all-natural cream cheese made from almond milk! It's a great non-dairy alternative to regular cream cheese…and it can even be substituted for sour cream! Kite Hill cream cheese has a creamy, velvety texture with a hint of sweetness and subtle tangy flavor that will keep you coming back for more! Whether you're dairy-free or just curious about a healthier lifestyle, you can feel good about eating Kite Hill products!
From the Mouth of a Kid:
Mom says I can eat this cream cheese because it's not made with milk – I'm allergic to milk! It tastes really yummy!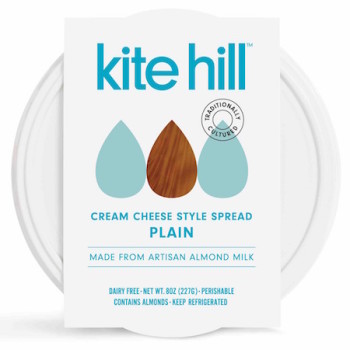 From the Eyes of a Parent:
With one child dairy-free due to an allergy, I'm always looking for dairy-free alternatives that the whole family will enjoy! Kite Hill's cream cheese can truly be used in place of cream cheese for anything from smearing it on a bagel to using in a recipe, such as cheesecake!  I use this cream cheese all the time! And, since it's made with almonds, there's the added benefit of a touch of protein.
Flavorful Features:
Other Kite Hill cream cheese flavors include:
Chive Cream Cheese Style Spread

Jalapeno Style Spread
The Icing on the Cake:
All Kite Hill products are made from all-natural, non-dairy ingredients using traditional cheese-making techniques…but with nut milk instead of milk from an animal!
Time to Eat?!
Kite Hill cream cheese is a perfect non-dairy alternative for regular cream cheese for your morning bagel, and it can be used as a sour cream substitute in any recipe!
Mix it Up!
Have the kids help make a Kite Hill cream cheese sandwich! Try a cream cheese and cucumber sandwich for a savory snack – or a cream cheese and jam sandwich for a sweet treat!  Use a cookie cutter to form the sandwich into a fun shape before eating!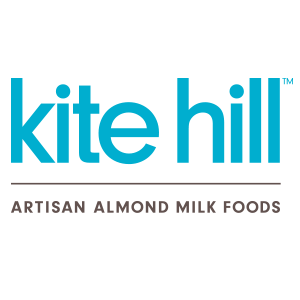 https://www.facebook.com/kitehillfoods/
The Creative Kitchen™, LLC, teaches children about food and how to cook in a fun, safe, and educational manner. Targeting families with children ages two to teen, the company focuses on teaching, writing creative content and curriculum, special events, recipe development, spokesperson work, webisode production and consulting to present educational and entertaining content through food-related activities. The founder, Cricket Azima, is an expert in cooking for and with children. She inspires kids to express themselves creatively through food and cooking, while complementing lessons with traditional educational material such as social studies, math, arts, science, and more. Visit

www.thecreativekitchen.com

for more information.
Related posts